AFBI is pleased to announce details of its annual science outlook conference: "AFBI Science - Shaping Livestock Farming for 2030" which will take place on Tuesday 13th March, 2018 at the Hilton Hotel, Templepatrick.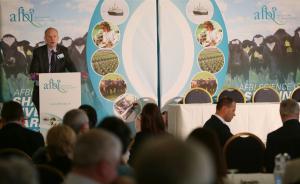 Conference
The aim of the conference will be to address some of the major global challenges facing the agri-food sector at present and the potential impact of, and opportunities arising from, these challenges for the local agri-food sector. A number of world leading specialists and internationally renowned researchers have been invited to outline the global challenges for the sector. AFBI researchers will then describe how AFBI research is seeking to identify impacts on the industry locally and will present a range of options as to how it might respond.
The conference will focus on recent developments in science which will have significant implications for the local and global agri-food sectors. Key topics for discussion will include:
Bovine Tuberculosis – Progress Towards a Science-Based Solution;
Livestock Improvement Through Genetic Selection and the Power of Big Data;
Science and Land Management - Opportunities to Deliver Sustainable Intensification.
This is your chance to hear about the latest developments in science and how these will shape the future of the local and global agri-food industry.
To download the agenda, please click here
Registration
FOR REGISTRATION PLEASE CLICK HERE
Admission fee for this important conference is £20, which includes refreshments on arrival and lunch. Places are limited to 200, so early booking is advised.
For further information, please contact:
corporate.comms@afbini.gov.uk or phone +44(0)28 9025 5636