The Agri-Food and Biosciences Institute (AFBI) will be bringing its experts to this year's Balmoral show to highlight how AFBI research is making a real difference to the Northern Ireland agri-food industry.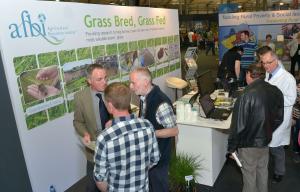 Throughout the Show, researchers from across the organisation will be highlighting how AFBI research helps the local agri-food sector produce healthy, versatile and safe food through sustainable production systems.
Latest developments include the launch of an updated Hillsborough Feeding Information System (HFIS), providing accurate grass and forage analysis to aid management decision making on optimal feed levels for dairy, beef and sheep systems.
Experts will also be on hand to discuss the AFBI Cattle Health Scheme (CHS), now in its 10th year, providing a monitoring service for 5 of the most important endemic diseases of cattle.
Also at the AFBI stand will be our grass breeding experts and agri-environment researchers. These researchers will be available to discuss latest developments in grass breeding and how to optimise fertiliser use by taking account of local environment and soil conditions.
The AFBI exhibit will also feature research on freshwater fisheries including a live eel aquaria.
Come and see our scientists and find out how AFBI research is making a real difference to the local food and farming industry by visiting the AFBI Exhibition Unit at Stand D11 beside the Spar Arena, or the AFBI stand in the Government Departments Exhibition in the Eikon Complex.
Notes to editors:
AFBI carries out high quality technology research and development, statutory, analytical, and diagnostic testing functions for DAERA and other Government departments, public bodies and commercial companies.
AFBI's Vision is to Advance the Local and Global Agri-food Sectors Through Scientific Excellence.
All media enquiries to AFBI Press Office