This year, AFBI had two stands at the extended 4-day Balmoral Show which was held at Balmoral Park, Lisburn from 10-13th May and was attended by a record number of visitors.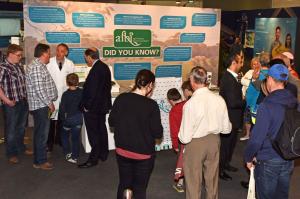 AFBI services including the Hillsborough Feeding Information System and Cattle Health Scheme were promoted to farming families in the Government Departments Exhibition along with the upcoming Loughgall Open Day "More from Grass" which will be held on Tuesday 20 June.
The AFBI exhibition trailer was also deployed as a stand promoting the work of Fisheries and Aquatic Ecosystems branch in support of the fishing industry in both freshwater and marine environments.
Both stands saw a large number of home-grown visitors as well as a number of foreign delegates from Iran, Ukraine, Algeria and USA.
Notes to editors:
AFBI carries out high quality technology research and development, statutory, analytical, and diagnostic testing functions for DAERA and other Government departments, public bodies and commercial companies.
AFBI's Vision is to use scientific excellence to advance the local and global agri-food sector.
All media enquiries to AFBI Press Office