Five years ago AFBI set up a 4-nation forum to discuss the issues facing agricultural production and how science, especially in collaboration, could help tackle them.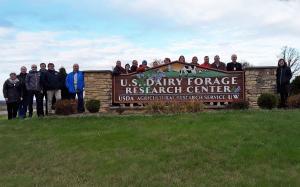 Since that initial meeting, the event has been held in each country; Northern Ireland, the United States, Canada and Ireland. This year, New Zealand joined the "Fall Forum" as the event continues to draw world renowned scientists to discuss proposals for international collaboration.
This year's International Fall Forum was hosted by the US Department of Agriculture (USDA) in Madison, Wisconsin, with 52 Senior Scientists attending the event, with AFBI's team of 10 headed by CEO Dr Sinclair Mayne.
The focus of the Forum was on "Minimising the Environmental Impact of Sustainable, Resilient and Nutritious Food Production" and how robust science can deliver tangible benefits. The Forum sought to identify and develop proposals for collaboration across livestock production systems- from soils and plant & animal health to livestock productivity, together with strategies to limit environmental impact in nutrient dense food production.
With 2017's event being arguably the most productive AFBI Fall Forum, the next step is to identify funding mechanisms to translate proposals into long term international projects capable of yielding tangible benefits to regional farmers, food producers and communities.
Belfast will host the 2018 Fall Forum.