As we approach the Christmas Season, I would like to take this opportunity to wish all our customers and friends throughout the wider agri-food industry a very merry Christmas and a peaceful and prosperous New Year.
I am pleased to report that 2017 has been a very successful year for AFBI, as we continue to grow our wider income base, with over 40% of our total revenue now derived outside of our core "grant-in-aid" from the Department of Agriculture, Environment and Rural Affairs.
In line with our vision: "Advancing the Local and Global Agri-Food and Biosciences Sectors Through Scientific Excellence" AFBI is more engaged than ever before with the wider international research community, as we seek to provide scientific solutions to the global challenges of disease control, food security, climate change and environmental protection. AFBI will continue to invest in developing the current and next generation of scientists in order to generate new knowledge, drive innovation and improve production efficiency of the wider industry in an increasingly competitive global market.
Looking to the future, I see tremendous opportunities for the local agri-food sector to respond to the global challenges we currently face by further enhancing Northern Ireland's reputation as a region producing healthy, nutritious and safe food with a great provenance.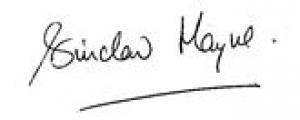 Dr Sinclair Mayne
AFBI Chief Executive