Lord Donald Curry Delivers Key Note George Scott Robertson Memorial Lecture 2017
Lord Don Curry, who authored an influential UK Government report in 2002 "Farming and Food – A Sustainable Future", delivered the prestigious 2017 George Scott Robertson Memorial Lecture recently. Jointly organised by AFBI, Queen's University, the Department of Agriculture, Environment and Rural Affairs and the Ulster Farmers Union, this year's lecture was hosted in the Riddel Hall, Queen's University Belfast.
AFBI in focus at the International Dairy Federation World Dairy Summit
AFBI recently hosted a fact finding tour for over 60 delegates who attended the latest International Dairy Federation (IDF) World Dairy Summit in Belfast. Included in the visiting group were dairy specialists from Denmark, Finland, France, Italy, Netherlands and the UK, as well as delegates from Canada, Chile, Japan, New Zealand, South Africa, South Korea and Pakistan.
AFBI Lunchtime Seminar
"Agroforestry - from Science to Policy to Practice"
Professor Jim McAdam (AFBI) will be hosting a lunchtime lecture on Wednesday 29th November entitled "Agroforestry - from Science to Policy to Practice". In 2017 Agroforestry - as a sustainable land use option delivering a range of ecosystem services - was adopted into DAERA policy as an option in the new Environmental Farming Scheme. This success emanates from an AFBI research programme. The lecture will outline the objectives behind and key findings of the programme, focusing on key outcomes and potential for future research by AFBI scientists.
World Agri Research Experts Gather to Share Ideas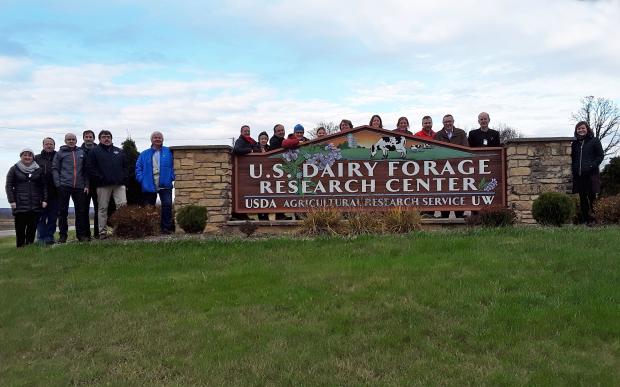 Five years ago AFBI set up a 4-nation forum to discuss the issues facing agricultural production and how science, especially in collaboration, could help tackle them. Since that initial meeting, the event has been held in each country; Northern Ireland, the United States, Canada and Ireland. This year's International Fall Forum was hosted by the US Department of Agriculture (USDA) in Madison, Wisconsin, with 52 Senior Scientists attending the event, with AFBI's team of 10 headed by CEO Dr Sinclair Mayne.
AFBI Cattle Health Scheme 10 Year Anniversary Celebration
A special event was held in AFBI Hillsborough on Wednesday 15th November to celebrate the 10 year anniversary of the AFBI Cattle Health Scheme (CHS). The AFBI Cattle Health Scheme is licenced to the UK-wide Cattle Health Certification Standards (CHeCS) and is the only one of its kind in Northern Ireland.
AFBI Leads New EU Project to Support Marine Protected Areas and Species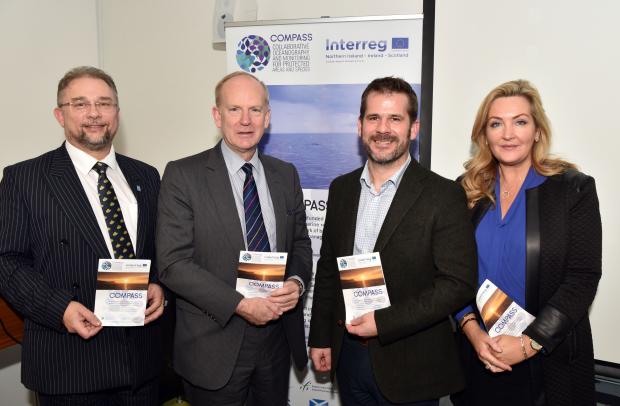 An exciting new marine science project studying the seas around Ireland, Western Scotland and Northern Ireland was launched recently in Ballycastle overlooking Rathlin Sound. The COMPASS project, led and coordinated by researchers from AFBI will connect the regions' leading marine research Institutes to form a cross-border network to protect vulnerable marine species and increase our understanding of ocean life in our seas.
AFBI Launch of EAA Soil Sampling and Analysis Scheme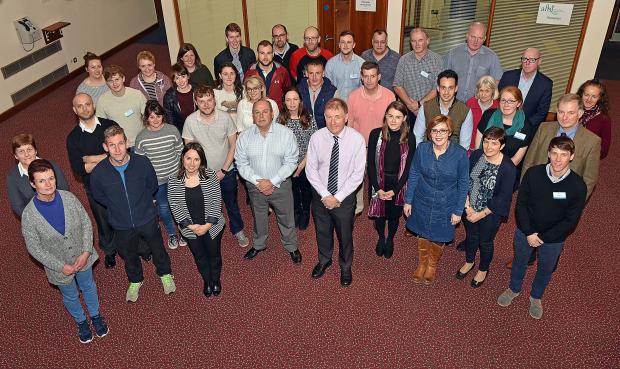 On the 1st of November a "Meet the Team" event was held at Newforge for the 40 AFBI permanent and agency staff involved in the EU-funded Exceptional Adjustment Aid (EAA) Soil Sampling and Analysis Scheme. The event was attended by CAFRE and DAERA staff who were also involved in the Scheme's development. Sampling will continue until spring 2018. Soil samples collected in both components of the Scheme will be analysed by NRM laboratories in England.
AFBI hosts Supergen Bioenergy Hub Conference
The Supergen Bioenergy Hub, in which AFBI is a partner organisation, aims to bring together industry, academia and other stakeholders to focus on the research and knowledge challenges associated with increasing the contribution of UK bioenergy to meet strategic environmental targets. The Hub consists of Bioenergy researchers from many Universities and Research Institutes across the UK. The 2017 Supergen Bioenergy Hub Annual Assembly was held at AFBI Hillsborough on the 25th October.
Spanish Researchers Visit AFBI's Fisheries and Aquatic Ecosystems Team
Dr Derek Evans and Warren Campbell of the Fisheries and Aquatic Ecosystems Branch (FAEB) in AFBI recently hosted Professor Carlos Fernández-Delgado and his Research Fellow Dr Ramone Indurain from the University of Cordoba in Spain on a fact finding and technology transfer mission. Their visit was timed to coincide with the October lunar "dark" and the subsequent fishing of silver eels across Northern Ireland from both commercial and conservational fisheries.
AFBI Features on Blue Planet II
Work being conducted in the "COMPASS" project, led by AFBI has recently featured on the website of Blue Planet II – the popular BBC programme. The Marine Mammal programme of work, which was featured by Blue Planet II (LINK HERE), is led by Dr Denise Risch from the Scottish Association for Marine Science (SAMS), who will work with AFBI's Suzanne Beck and other scientists from the projects partner institutes, to develop and deliver a sustainable monitoring programme for cetaceans.
Meet the Scientist - Aiobheann Donaghy
This month we meet AFBI Scientist Aoibheann Donaghy. I have worked in the Diagnostic Virology section of the Disease Surveillance and Investigation Branch (DSIB), Veterinary Science Division (VSD) since June 2008. I joined initially as an Assistant Scientific Officer and I am now working as a Higher Scientific Officer within the Bovine Viral Diarrhoea Virus (BVD) eradication scheme and molecular testing laboratories section of Diagnostic Virology. I have been working in this role since December 2015.
DID YOU KNOW ....
AFBI will have an exhibition stand at this year's RUAS Winter Fair which will be held on Thursday 14th December at the Eikon Complex, Maze, Lisburn. Come and meet AFBI Scientists who will be promoting the latest dairy research and the services available to dairy farmers (e.g. AFBI Cattle Health Scheme and BVD testing).
See HERE for more information on the RUAS Winter Fair
AFBI Job Vacancies
AFBI currently have one job vacancy which can be viewed on the Northern Ireland Civil Service's Recruitment Website
Health and Safety Manager (Deputy Principal)