A special event was held in AFBI Hillsborough on Wednesday 15th November to celebrate the 10 year anniversary of the AFBI Cattle Health Scheme (CHS).
The AFBI Cattle Health Scheme is licenced to the UK-wide Cattle Health Certification Standards (CHeCS) and is the only one of its kind in Northern Ireland.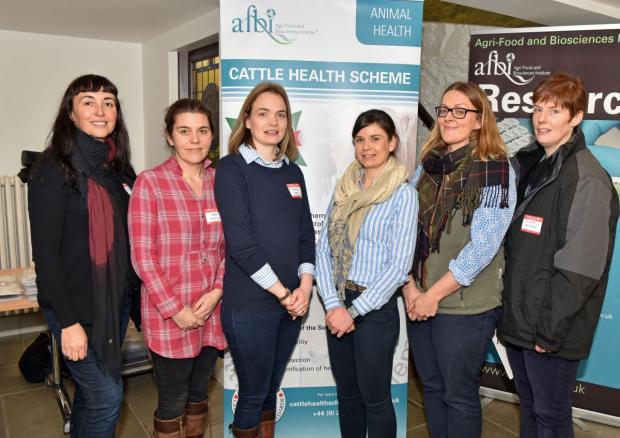 During the event, three of the AFBI CHS members shared their experiences of working with the Scheme and with disease control in general. Mr Robin Boyd, current President of the British Simmental Cattle Society and owner of Slievenagh Simmental was the first to speak. Mr Boyd highlighted how Orkney, which has had a Bovine Viral Diarrhoea control programme since 2001, is a destination for Simmental bulls from Northern Ireland and he made breeders aware of the need to control this disease on farm. He was also able to talk about his experience working as stud manager at Ballycraigy AI Centre and the importance of high standards of animal health for bulls entering AI centres.
Mr Billy Robson OBE, former President of the Royal Ulster Agricultural Society (RUAS), Kilbride Farm Simmental; followed. Mr Robson gave an overview of his experience in dealing with the various challenges of animal disease control over the last 60 years including bovine brucellosis, bovine tuberculosis, bleeding calf syndrome and Infectious Bovine Rhinotracheitis (IBR) in relation to bulls intended for AI.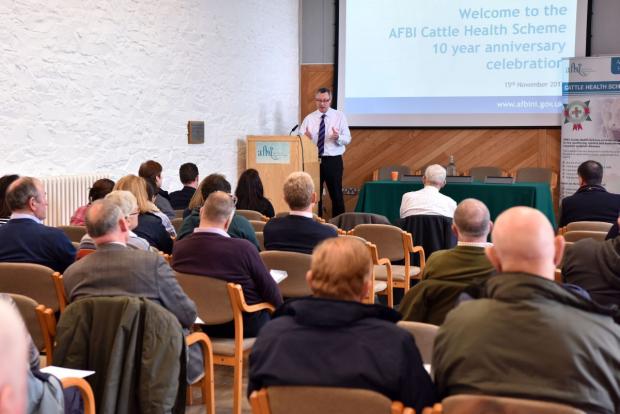 Mr William Sherrard BVM&S MRCVS, Greenvale Limousin Herd; was the last AFBI CHS speaker. He gave an important and open account of his own experiences and highlighted the need to increase the awareness across the livestock community of the impact of endemic diseases on farm productivity and the understanding of what the various CHeCS health statuses mean. He also warned against complacency once a health status has been achieved.
The last talk of the day was delivered by a guest speaker, veterinary practitioner, past president of the British Cattle Veterinary Association and chair of the CHeCS Technical Committee, Keith Cutler. He delivered a thought provoking presentation where he highlighted the importance of health planning and disease prevention for improving profit from livestock farming.
Following the presentations, those attending visited the AFBI Hillsborough facilities and enjoyed short presentations from AFBI disease surveillance vets on a range of animal health topics including isolation facilities requirements, Johne's biosecurity including calving hygiene, vaccination protocols, considerations for bulls with potential use as an AI sire, and Neosporosis which has been recently added to the CHeCS programme.