AFBI recently hosted a fact finding tour for over 60 delegates who attended the latest International Dairy Federation (IDF) World Dairy Summit in Belfast.
Delegates attending the conference were very interested in AFBI's dairy research programme with particular emphasis on increasing milk production from grass and forage and the latest developments in heifer rearing systems. Included in the visiting group were dairy specialists from Denmark, Finland, France, Italy, Netherlands and the UK, as well as delegates from Canada, Chile, Japan, New Zealand, South Africa, South Korea and Pakistan.
Delegates had the opportunity to view first-hand the research work being conducted by individual scientists. Dr Debbie McConnell presented research on optimum management strategies for high genetic merit cows while grazing, and outlined AFBI research to examine how precision technologies could be used to support grassland management in the future.
A farmers' perspective on the challenges and potential of maximising the use of grazed grass in dairy cow diets was provided by Mr Hugh Harbison. Hugh is a local dairy farmer who is a member of the AgriSearch Dairy Committee, and a participant in the GrassCheck project. Jason Rankin from AgriSearch explained how dairy farmers influenced the research priorities of AFBI by supporting the work through a voluntary levy.
Dr Conrad Ferris provided the delegates with an overview of breeding and management practices within the AFBI dairy herd, and outlined how ongoing research programmes were seeking to reduce the cost of winter feeding through precision concentrate allocation strategies. Dr Ruth Kinkead highlighted ongoing research work to improve the efficiency of producing dairy herd replacements, with Gillian Scoley and Robert Patterson explaining the outcomes from their postgraduate studies in this area.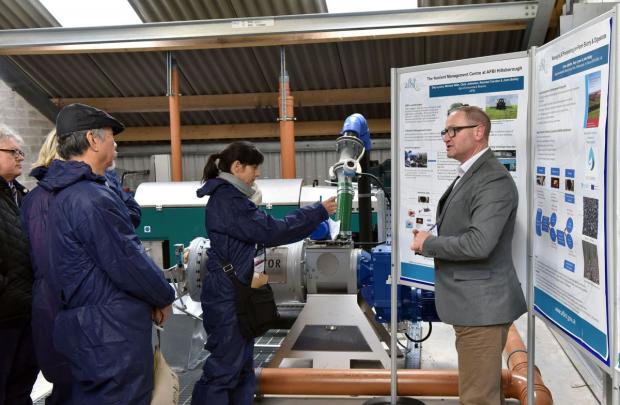 The tour also focused on the environmental footprint of dairy farming, with Drs John Bailey and Gary Lyons demonstrating research on protecting soil and water quality, while highlighting new research seeking to lower the phosphate content of cattle slurry. This work is making use of facilities within the newly constructed Nutrient Management Centre.
The final demonstration was by Dr Yiguang Zhao, who explained how AFBI research was examining options to reduce greenhouse gas and nutrient losses from dairy farming by precision feeding systems.
After lunch, delegates discussed the latest joint research between AFBI and the Ulster University (UU) which is examining the impact of milk consumption on human health. Dr Alison Yeates (UU) presented evidence for the importance of cow's milk in addressing iodine deficiency, and Dr Kirsty Pourshahidi (UU) reported how cows' milk is a potential vehicle for vitamin D enrichment to offset deficiencies that are now being detected in Northern Ireland, most acutely in young women.
The key take home message from the tour showcased how dairy farming in Northern Ireland is an efficient grass based enterprise that is producing wholesome products in an environmentally responsible manner. Moreover a large number of international partners are now aware that the research support provided by AFBI ensures that the Northern Ireland dairy sector has the means to stay at the forefront of the latest technological advances and be a competitive player in world export markets.