AFBI Chief Executive announces plans to retire
Dr Sinclair Mayne, Chief Executive of AFBI has announced that he plans to retire during 2018. In a note to staff Sinclair commented: "I am pleased that AFBI is currently in a strong and secure position, and in particular has a much higher external profile across the agri-food, animal health and fisheries sectors than we have had in recent years ...
DATE FOR YOUR DIARY: AFBI Science Outlook Conference - 13 March 2018
AFBI will be hosting its 'Science Outlook Conference' on Tuesday 13 March 2018. The Conference will focus on recent developments in science which will have significant implications for the local and global agri-food sector. Key topics for discussion will include, Bovine Tuberculosis – Progress Towards a Science-Based Solution, Livestock Improvement Through Genetic Selection and the Power of Big Data and Science and Land Management - Opportunities to Deliver Sustainable Intensification. This is your chance to hear about the latest developments in science and how these will shape the future of the local and global agri-food industry. The conference will run from 10am to 4pm at the Hilton Hotel, Templepatrick.
Keep an eye on your inbox for further information and also on the Events section of the AFBI website
AFBI Secures £11m Funding to Enhance the Natural Environment of NI, Scotland and ROI
Research scientists from AFBI are playing a key role in researching & developing new methods of managing the natural environment across NI, the border counties of the ROI and Western Scotland. Over the past year, AFBI has successfully secured over £11 million of funding from the European Union's INTERREG VA Programme, managed by the Special EU Programmes Body (SEUPB), to fund a series of innovative cross border projects.
AFBI Research in the Spotlight at the Winter Fair
The AFBI stand at the Winter Fair was a hive of activity this year as farmers and industry representatives came along to discuss a wide range of current issues. AFBI's vets were available to discuss the Cattle Health Scheme now in its 10th year, dairy research specialists presented their latest research results and AFBI's grass breeding scientists joined with commercial partners Barenbrug, for the launch of the latest AFBI-bred perennial ryegrass Caledon.
AFBI Research Demonstrates Future Sow and Pig Potential
Recent research at AFBI has found that sows can wean litter weights of over 115kg at 28 days of age and that pigs with low birth weights can have feed efficiency ratios under 2.4 during the finishing period. Dr Aimee Louise Craig addressed this issue as part of her postgraduate work at Hillsborough which aimed to develop nutritional and managerial strategies to increase piglet and litter wean weights and optimise the lifetime performance of low wean weight piglets.
AVSPNI Open Day at AFBI Omagh
The Association of Veterinary Surgeons Practising in Northern Ireland (AVSPNI) Open Day held annually at AFBI Omagh, is a very well established event in the calendar of the local veterinary profession. The annual event helps maintain and enhance the close working relationship that exists between AFBI and local veterinary practitioners, and highlights the importance the veterinary profession places on the disease surveillance work carried out.
January Lunchtime Lecture - Developing the NI Plant Health Risk Register, Risk-Based Biosecurity
The recent appearance of a number of high profile plant diseases (e.g. ash dieback, larch decline) has demonstrated the damaging impact of non-native pests and diseases on NI's natural environment and rural economy. Dr Colin Fleming, Senior Scientist in AFBI's Grassland and Plant Sciences Branch will be presenting a lunchtime lecture on Wednesday 31 January in AFBI Headquarters, 18a Newforge Lane, Malone Upper, Belfast entitled "Developing the NI Plant Health Risk Register, Risk-Based Biosecurity".
AFBI Brexit Report Informs NFU Submission to House of Lords EU Select Committee
A recent submission by The National Farmers' Union (NFU) of England & Wales to the House of Lords EU Select Committee has extensively referred to the analysis undertaken by AFBI on the Impacts of Alternative Post-Brexit Trade Arrangements on UK Agriculture.
AFBI Economists give webinar to the EuFMD
Dr Siyi Feng and Dr Myles Patton were invited to give a webinar on economic assessment of Foot-and-Mouth Disease (FMD) control strategies to the modelling network of the European Commission for the Control of Foot-and-Mouth Disease (EuFMD) recently. The webinar was based on research by the FAPRI-UK team at AFBI.
€5.3M Cross-Border Sustainable Water Quality Improvement Project Launched
'Source to Tap' is a cross-border partnership project that will focus on the River Erne and the River Derg catchments, which are part of our shared drinking water sources. NI Water will lead a partnership which includes Irish Water, The Rivers Trust, Ulster University, Agri Food and Bioscience Institute (AFBI) and East Border Region. Together the partners will work together to test pilots for how to protect raw water quality at source across both jurisdictions.
AFBI's Head of Virology to present lecture at NI Science Festival
Professor Louise Cosby, AFBI's Head of Virology, and emeritus Professor at Queen's University Belfast (QUB), will give the NI Science Festival's A-level update lecture in W5 on 21st February 2018. This lecture is sponsored by Royal Society of Biology in conjunction with STEMNET @ W5. The lecture is titled NOT FRANKENSTEIN: Applications of DNA technology in medicine and agriculture. The lecture will explain the basis of how DNA technology is carried out and how these techniques are used in areas of medicine and agriculture to combat disease and improve food production.
SMOLTRACK Meeting held at AFBI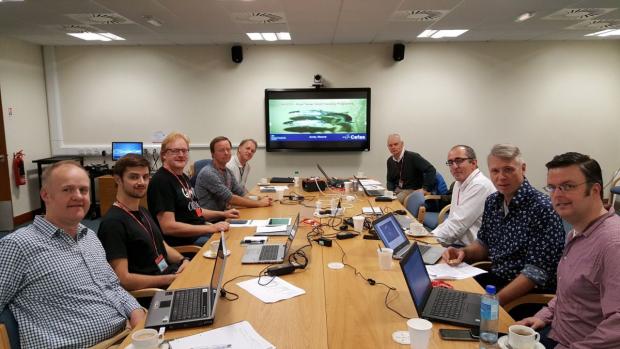 SMOLTRACK is a European Maritime Fisheries Fund (EMFF) funded project quantifying Atlantic salmon mortality during the early part of the outward migration as juveniles from river to high seas. Over recent decades, the abundance of wild Atlantic salmon stocks has been in decline throughout their range despite significant management measures put in place both domestically and at an international level. The recent (November 7-8) meeting convened at AFBI HQ.
AFBI Professor addresses QUB Postgraduate Students
Professor Jim McAdam (Head of AFBI's Grassland and Plant Sciences Branch) recently gave a presentation to Postgraduate students at Queen's University Belfast in their 'Future Ready Programme – Employer Networking event'. In the workshops Queens' aims to prepare its postgrads in the final year for the job market and how to sell themselves and their skills base. AFBI and Randox were the two potential employers presenting their cases.
AFBI's Dr Rodrigo Olave guest speaker at University of Concepcion, Chile
Dr Rodrigo Olave from AFBI's Agri-Environment Branch was invited by the University of Concepcion in Chile to participate as guest speaker for a workshop on energy crops and GHG emissions between 13th and 17th November 2017 in the city of Concepcion.
Meet the AFBI Scientist - Margaret McDowell
This month Margaret McDowell, talks about her role in AFBI. I have been working in AFBI's Grassland and Plant Sciences Branch (formerly Agricultural Zoology) for over 33 years. My first post was at the Plant Nematology station at Felden, Newtownabbey, where I was involved in testing soils for potato cyst nematodes as part of the Northern Ireland Seed Potato certification scheme, before moving to Newforge Lane where I joined the Plant Pathology section.
UPDATE: Christmas Day Calf born at AFBI Hillsborough!
As an update from last months newsletter we can announce that AFBI Hillsborough had a Christmas Day arrival with the birth of a bull calf born weighing 44kg. As you can see he is getting used to the new world around him!
DID YOU KNOW .....
AFBI will again be the Northern Ireland Science Festival, this year welcoming the public aboard its Research Vessel, Corystes. Tours have been booking up fast, so if you want to find out how we work out how many fish are in the sea, and some of the equipment and techniques we use in marine science, make sure to visit www.nisciencefestival.com now to book your place. AFBI will also be part of the NI Science Festival Roadshows from 14-17 February in Dungannon, Coleraine, Enniskillen, and Newry with displays of entomology, food research, freshwater fisheries and plant pathology. These events are free to attend and no booking is required.
More information is on the NI Science Festival website
AFBI Job Vacancies
AFBI currently have two job vacancies which can be viewed on the Northern Ireland Civil Service Recruitment Website.
They include:
Solicitor/Legal Adviser (Contracts and Intellectual Property)
Research Vessel & Marine Systems Manager
See here for more information on the vacancies