The soil carbon sequestration debate is a global hot topic and over the last number of years the Agri-Food and Biosciences Institute has been represented by Dr Dario Fornara on a United Nations led committee to develop robust guidelines and advice to contribute to this ongoing discussion.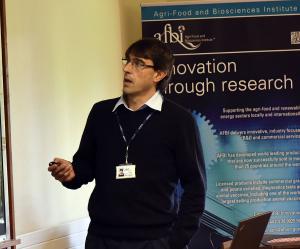 Dr Fornara was invited by the Food and Agricultural Organization of United Nations (FAO) to join a panel of experts from across the world, under the LEAP partnership (Livestock Environmental Assessment and Performance Partnership) to conduct background research and develop a technical document on "Measuring and modelling soil carbon stocks and stock changes in livestock production systems".
An advanced copy of this document was recently released: Measuring & modelling soil carbon stocks and stock changes in Livestock production systems (FAO website)
Dario contributed with 36 other experts worldwide to the development and implementation of these guidelines, which are of wide intended use given the range of objectives and scales for soil organic carbon stock change studies.
Potential uses include:
Global or regional accounting for GHG emissions and removals from the land sector as a component of climate change accounting
Monitoring, reporting and verification obligations for the United Nations Framework Convention on Climate Change
Analysis of the climate change impact of livestock products
Evaluation of the environmental impacts of grazing land management for animal agriculture
Assessment of the mitigation potential of agricultural practices at an industry, region or farm scale
Implementing mitigation options in an emissions trading or other market mechanism where payments for SOC sequestration depend on accurate and verifiable quantification
Research into soil and biological processes affecting SOC stocks and dynamics
The impact of this document is wide and far-reaching because it provides recommendations, as determined by world experts, for measuring soil C stocks and stock changes and for integrating these changes into lifecycle assessments to evaluate soil organic carbon stock changes in reporting environmental performance of livestock production on rangelands and grasslands.
In principle, anyone who has an interest in quantifying soil carbon stocks or stock changes should fi­nd these guidelines helpful. A set of methods and approaches are recommended for use by individual farmers or land managers, by those undertaking life cycle assessment of livestock products, policy makers, or regulators at local, regional or national scales.