The Agri-Food and Biosciences Institute organised a major dairy industry conference which was held at the King's Hall Conference Complex in March 2014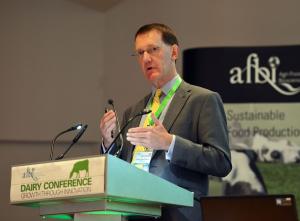 The event brought together approximately 200 farmers, processors, researchers and other dairy industry stakeholders to examine the challenges and opportunities facing the sector in Northern Ireland including how growth can be achieved through innovation in the milk sector.
Introducing the Event, Professor Bill McKelvey, Deputy Chair of the AFBI Board said "It should be made clear that the growth of the dairy sector in Northern Ireland must be achieved on a sustainable basis. I look forward to the Executive at Stormont responding positively to the Going For Growth strategy in the very near future,"
Professor Seamus Kennedy, AFBI Chief Executive Officer in his opening remarks, said " There is a sustainable future for milk production in Northern Ireland, but this will only be secured on the back of improved efficiency levels being achieved on farm. It is AFBI's role to ensure that the research required to allow farmers meet growth targets is carried out, and our conference today has been organised to showcase what we are doing and our plans for the future.
Further information on the presentations
Notes to editors:
AFBI carries out high quality technology research and development, statutory, analytical, and diagnostic testing functions for DARD and other Government departments, public bodies and commercial companies.
AFBI's Vision is "Scientific excellence in Northern Ireland … serving the world".
All media enquiries to AFBI Press Office.