Good air quality is important for the wellbeing of society and the environment. However, society is equally a key driver of air quality through it's behaviours and activities, and this has been made apparent in recent months during this pandemic.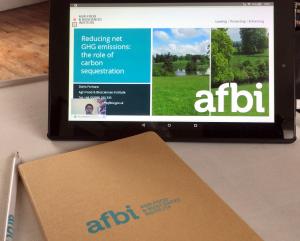 Whilst key air pollutants such as sulphur dioxide and volatile organic compounds, arise from other industries and activities across NI, farming contributes significantly to the levels of ammonia and greenhouse gases (GHGs). In Northern Ireland agriculture is responsible for 96% of ammonia emissions and 27% of GHG emissions (mainly methane and nitrous oxide).
To address these emissions, AFBI have major programmes of work underway to calculate and monitor current levels of emissions, develop strategies to reduce these emissions and their impact as well as economic assessments of the adoption of technologies. In a recent webinar two of AFBI's key scientists outlined some recent findings from these programmes of work.
Dr John McIlroy outlined the importance of nitrogen in the agricultural system but also the key gases resulting from nitrogen losses and their known impact. Whilst nitrous oxide is a highly potent greenhouse gas, the emissions of ammonia are of an equal, if not greater, concern in Northern Ireland due to their impact on local sensitive and protected habitats. John presented results from a number of modelled scenarios on the application of key mitigations and the resultant impact they should have on reducing ammonia emissions as well as on the 'favourable' status of sensitive habitats.
Dr Dario Fornara outlined that whilst the UK government has set a legally binding target to cut GHG emissions to "net-zero" by 2050 it will be challenging and will require carbon gain efficiencies within the agricultural sector to reduce its carbon footprint. However Dario presented data from a number of studies undertaken by AFBI examining the potential of soil under grassland and woodland to sequester carbon.
His findings highlighted the potential for approximately 20% of GHG's currently being emitted by the Agriculture sector in NI to be offset through sequestration, hence reducing the carbon footprint of current NI farming systems. However more research, especially focused on long-term monitoring of soil carbon stocks measured at a range of sites, is required in this area as a number of assumptions were used in these calculations
The second AFBI outlook webinar in this series will be held on 18th June at 10am. This webinar will focus on the 'Future of dairy production to 2030'. AFBI's leading Dairy Scientists, Dr Conrad Ferris and Dr Debbie McConnell will discuss future challenges and opportunities in the areas of milk quality, the environment, silage quality and grassland management. Anyone wishing to participate should register through the AFBI website www.afbini.gov.uk/events or from WebEx.