The introduction of new technology has been a key component of the journey into dairying for new entrant Aidan McManus, who started dairying in 2011 and farms near Cloniff in County Fermanagh. Aidan will be hosting visitors to his farm on 13 September 2017, in the second of AFBI's 'Dairy Innovation in Practice' roadshows.
The visit to Aidan's farm will be complemented with two similar events, kindly hosted by Ian McClelland, Banbridge, Co. Down on Tuesday 12 September and by David Hunter, Newtownstewart, Co. Tyrone on Thursday 14 September.
In 2011, Aidan converted the 25ha farm business from a suckler beef enterprise to dairy after returning home to farm. He started by purchasing 50 cows initially from the south of Ireland, and since then has expanded herd size to 110 Holstein-Friesian cows, with a further 125 youngstock on the farm. During this time Aidan has introduced zero-grazing equipment and in December 2016 he invested in two robotic milking machines.
Good grassland management has been essential to helping the farm achieve an impressive 3300 litres from forage per cow per year. Cows are housed all year round with zero grazed grass offered full-time during the summer months. Aidan is one of twelve dairy farmers taking part in AFBI and AgriSearch's GrassCheck project. As part of this network, he has been monitoring grass growth and quality throughout the 2017 season to date. All of the 21.5ha zero-grazing platform is located on SDA classified land and in the first four months of the 2017 grazing season, the farm yielded a staggering 11.4t DM/ha.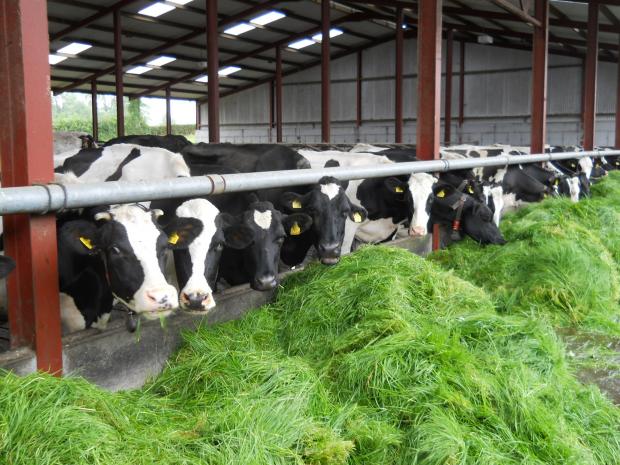 Aidan commented "we have a road running through the farm and a fragmented grazing platform means access to a large grazing area is difficult. We transitioned to zero-grazing in 2013 to better accommodate this, and to give us greater flexibility on heavy land". To maximise intakes of grass dry matter, Aidan takes a flexible approach to zero-grazing cutting 2 or 3 times per day to avoid deterioration of wet grass at the feed face.
In 2016, the herd averaged 7800 litres/cow on a total concentrate fed rate of 2 tonne/cow. Cow performance is expected to continue to rise to 9000 litres/cow in 2017 in line with improved cow management, changes in cow breeding and the introduction of robotic milking technology. To maximise use of the robots, Aidan is transitioning the herd from a predominantly spring calving profile to a 60:40 autumn spring split.
Looking forward, Aidan aims to focus on driving efficiencies in the business. "We have expanded quite significantly in the last 6 years and have probably reached our maximum herd size. Now we want to concentrate on the management of the system to make it as efficient as possible. For example, I would like to see us continue to increase milk yields but I want to achieve that without an increase in purchased feeds."
AFBI demonstrations at all three farm walks will cover a range of dairy related issues, including the importance of good calf rearing and animal health programmes to winter feeding practices and grassland management. The events which are being organised in partnership with AgriSearch, the Ulster Grassland Society and CAFRE, will start at 10.30am on each host farm, with tours leaving every 30 minutes and lasting approximately 2.5 hours. The last tour will start at 12.00 pm. Pre-booking for these events is essential.
Please visit click here to register for your preferred time slot before 8 September.
Some time slots are either full or filling fast, so early booking is advised.
In the interests of biosecurity, those attending are asked to wear clean clothing not previously worn while in direct contact with their own animals. Outdoor work boots should not be worn. Protective overalls and footwear will be provided.
Notes to editors:
AFBI carries out high-quality technology research and development, statutory, analytical, and diagnostic testing functions for DAERA and other Government departments, public bodies, and commercial companies.
AFBI's Vision "Advancing the Local and Global Agri-Food Sectors Through Scientific Excellence".
All media enquiries to AFBI Press Office 028 9025 5326.