Sam Clawson, Ivan Forsythe, Carol Hall and Archie Murchie (AFBI) ran a bee microscopy workshop and manned a bee disease information stand at the Ulster Beekeepers Association (UBKA) annual conference held at CAFRE Greenmount on Saturday 11th March.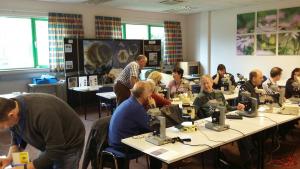 Honey bee populations are under much pressure at the moment due to changing agricultural practices and the threat posed by diseases such as American foulbrood and Nosema; as well as potential threats on the horizon, including Asian hornet and small hive beetle. AFBI plays a critical role in disseminating current scientific information and highlighting potential threats.
The UBKA conference attracts 200-300 beekeepers from across Ireland and beyond. AFBI is also a partner to the All-Ireland Pollinator Plan as are DAERA.
Can you help with a Honey Bee Husbandry Survey?
This is an annual survey to obtain information on current honey bee husbandry practices. The questionnaire is used to provide baseline data on bee health in Northern Ireland and is in conjunction with a similar national survey conducted by the National Bee Unit in York, England and CoLoss, a Europe-wide research group. The survey takes approximately 5 minutes to complete. All your answers are strictly confidential and will only be used for the purposes of this study.
You can access the 2016-2017 survey from here
Notes to editors:
AFBI carries out high quality technology research and development, statutory, analytical, and diagnostic testing functions for DAERA and other Government departments, public bodies and commercial companies.
AFBI's Vision is to use scientific excellence to advance the local and global agri-food sector.
All media enquiries to AFBI Press Office