WE WANT TO STAY IN TOUCH WITH YOU ...
New EU Data Protection rules mean that we are asking you to confirm that we can continue to communicate with you by email. If you haven't already done so please OPT IN to continue to receive this newsletter and invitations to our events and surveys. If you don't OPT IN TODAY no further communications will be sent to you by AFBI.
The AFBI Privacy Notice has been updated to comply with the new Data Protection Legislation
DATE FOR YOUR DIARY: Dairy Event of the Year to be held at AFBI Hillsborough on 6th June
AFBI will be holding a major Dairy Open Day at Hillsborough on Wednesday 6 June. It will have the theme of Dairy Innovation 2018 - Profiting from AFBI Research. The event, organised in partnership with AgriSearch and CAFRE, will feature current research work at AFBI in support of the dairy sector. It will provide visitors with the opportunity to view the latest research and to discuss how AFBI scientists are using the latest technologies to find new ways of optimising farming practices. Tours start at 10.30, taking around 2 hours, with the last one departing around 2.30pm.
AFBI Bred Varieties to Feature at Dairy Open Day
The AFBI grass breeding team at Loughgall will be presenting the latest information on their varieties in a field demonstration and in a 'research marquee display' at the AFBI Hillsborough Dairy Innovation Open Day on 6th June. This is an excellent opportunity to learn more about the key features of these market leading varieties and discuss with the breeders who created them how you can select the best ones to improve your own herd's grazing and silage utilization.
AFBI advises to start planning now for this year's winter feeding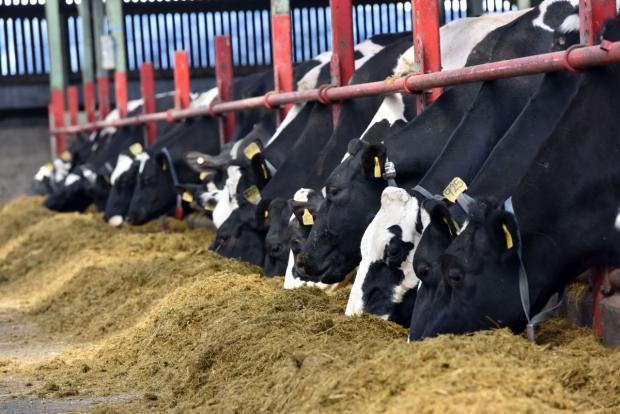 With turnout having just taken place on many farms, next winter is probably the last thing that most farmers are thinking about at present. However, given that many farms are carrying low silage stocks, starting to plan now for next winter makes real sense. To help farmers plan ahead, the topic of 'Managing Feeding Next Winter' will be another key area covered by researchers from AFBI at the AFBI Dairy Innovation 2018 Open Day.
AFBI Highlight Green Gold Potential through Maximising Returns from Grass
With many farms carrying low silage stocks following early housing in autumn 2017 and difficult grazing conditions in spring 2018, achieving high output from grazed grass this summer has never been more important. To help farmers make the most of this resource, maximising grass growth and utilisation this season will be one more of the key highlights of the AFBI Dairy Innovation 2018 event being held at Hillsborough, on the 6th June.
AFBI at the 2018 Balmoral Show
AFBI were out in force at the Balmoral Show from 16th - 19th May exhibiting for the first time independently as part of its wider outreach activity and welcoming many visitors to the stand over the 4 sunny days of the show. Celebrating its 12th anniversary this year AFBI's Balmoral exhibition aimed to enhance understanding of the organisation and the impact of its world class research work at a farm, societal and economic level.
New strategic alliance announced by AFBI and Queen's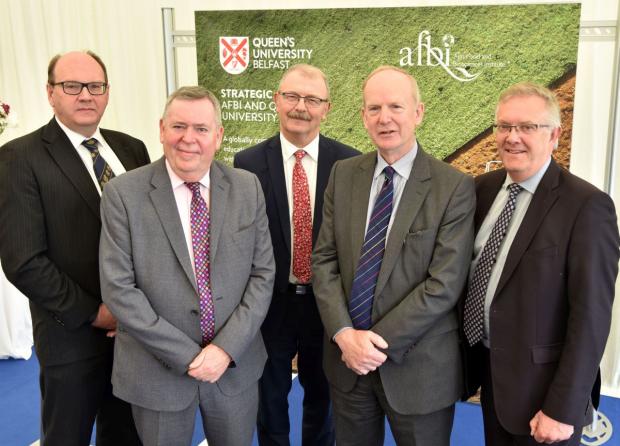 The Agri-Food and Biosciences Institute (AFBI) and Queen's University Belfast have announced a new strategic alliance to create a globally competitive research and education partnership, developing the next generation of leaders and experts in agri-food and bioscience.
Zero-grazing: Know when to mow
With the unfavourable weather at the start of spring hopefully behind us, it's now time to look at grassland management and focus on strategies to maximise both grass yield and utilisation this season. For some farmers zero-grazing provides an opportunity to increase grass utilisation when compared with conventional grazing systems. However, to achieve improvements in utilisation careful attention must be paid to grassland management.
AFBI Job Vacancies
AFBI currently has 3 job vacancies which can be viewed on the Northern Ireland Civil Service Recruitment Website
They include:
Spatial Analyst - Catchment Management (Higher Scientific Officer) - 3 Year Fixed Term Contract based at Newforge Lane, Belfast
Nutrient Management (Higher Scientific Officer) - 4 Year Fixed Term Contract based at Newforge Lane, Belfast
Catchment Science (Higher Scientific Officer) - 4 Year Fixed Term Contract based at Newforge Lane, Belfast
DID YOU KNOW ....
AFBI Bushmills Salmon Station featured on BBC NI Homeground on Monday 14th May 2018. Filming focused on the young salmon smolts which leave the river Bush in the spring. AFBI staff explained the scientific and monitoring programmes undertaken at the station and demonstrated a variety of smolt tagging methods.
You can watch the episode HERE