With turnout having just taken place on many farms, next winter is probably the last thing that most farmers are thinking about at present. However, given that many farms are carrying low silage stocks, starting to plan now for next winter makes real sense.
To help farmers plan ahead, the topic of 'Managing Feeding Next Winter' will be one of the key areas covered by researchers from the Agri-Food and Biosciences Institute (AFBI) at the AFBI Dairy Innovation 2018 Open Day which will be held at Hillsborough on 6th June.
If our industry is to remain competitive when competing within global dairy markets, a continued and relentless focus on improving all aspects of production efficiency is required. Given that concentrate feed costs comprise 60-70% of variable costs on most local dairy farms, and that a large proportion of concentrates are offered during the winter, management decisions made now in relation to silage harvesting this year will have a significant impact on overall farm profitability. Cutting high quality grass and ensuring it is ensiled efficiently will significantly reduce feed costs this winter. Appropriate feeding strategies must also be adopted to maximise the value of each kg of food offered.
The AFBI Dairy Innovation 2018 Open Day will provide an opportunity to learn about some of the novel strategies to manage winter feeding costs that AFBI have been researching in recent years. These include concentrate feeding strategies and concentrate feed rates in early lactation. For example, research has shown that if milk composition (especially milk fat) is compromised when high concentrate levels are offered in a feed-to-yield approach, margin over feed cost per cow per day with higher yielding cows may be lower than moderate yielding cows, at current milk prices. AFBI are currently seeking to recruit 30 local dairy farmers who operate feed-to-yield systems, to monitor responses to concentrate feeding of individual cows on commercial farms. Farmers interested in participating in this project will be able to obtain further information at the event.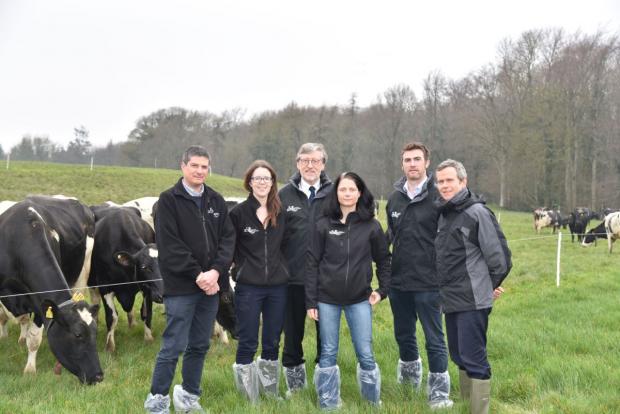 In addition, given the pressure to reduce our reliance on imported protein feeds such as soya-bean meal, the use of locally grown protein crops has been another significant area of research in recent years in AFBI. The Open Day will provide the opportunity to hear about the outcomes of studies examining the use of locally grown field beans and red clover in dairy cow diets.
At the event, attendees will also have the opportunity to visit the Grass Management focus area which will cover topics including soil fertility, soil compaction, grass varieties for reseeding and grass management, and to discuss silage analysis. The latter is particularly important given that many winter feeding decisions are influenced by both the quality and quantity of silage available. Given the cold wet spring to date, combined with the fact that many silage swards were left in poor condition last autumn, concerns have already being raised about silage quality and quantity this autumn. AFBI staff and CAFRE advisors will be available to discuss winter feeding options on a one-on-one basis at this not to be missed event.
The AFBI Open Day will be held at Hillsborough, on 6th June and the theme will be Dairy Innovation 2018 - Profiting from AFBI Research.
Notes to editors:
AFBI carries out high quality technology research and development, statutory, analytical, and diagnostic testing functions for DAERA and other Government departments, public bodies and commercial companies.
AFBI's Vision is "Advancing the local and global agri-food sectors through scientific excellence".
All media enquiries to AFBI Press Office