AFBI share some fun and knowledge at the 2019 Northern Ireland Science Festival!
The Northern Ireland Science Festival was held from 14-24 February and AFBI were fully involved in some super events during the festival including four roadshows held in Newry, Enniskillen, Dungannon and Ballymena and also open tours of the AFBI Research Vessel Corystes in-situ at the dock in Belfast.
OECD Economist presents analysis on productivity
In an AFBI seminar on the 1st February Dr Shingo Kimura from the Organisation for Economic Co-operation and Development (OECD) presented cross-country comparisons of drivers of the productivity of specialist dairy farms in England, Estonia and the Netherlands at a seminar on the 1st February.
AFBI research suggests caution when including high levels of field beans in dairy cow diets
As the milk yield potential of dairy cows has increased, so has the demand for concentrate feeds, and for the high quality 'protein' ingredients that they contain. However, many protein ingredients are imported from countries outside the European Union (EU), and this has left the dairy sector vulnerable to instability of supply and price volatility. Consequently there is considerable interest in the use of locally-grown protein crops, including field beans.
AFBI's advice on managing heavy grass cover in early spring for silage production
As the days lengthen and signs of spring start to appear, thoughts turn to the 2019 grass growing season and how best to manage swards. However, the best laid plans are always at the mercy of the weather and although there has been a huge contrast between this past autumn/winter and what we experienced in 2017, farmers in NI are currently facing heavy grass covers again. That's why over the past year, using funding from DAERA, AFBI at Hillsborough has been studying how best to manage swards which have excess cover in late winter/early spring to maximise the future quantity and quality of silage swards.
Pasture allowance guidance for replacement heifers
The rearing of replacement heifers is a significant cost to a dairy enterprise, second only to the cost of feed. So it is vitally important to minimise these costs and the key to this is reducing the time from birth, until entering the milking herd. At AFBI Hillsborough a research study was conducted to tackle the big question of 'how much pasture should be offered to heifers'?
AFBI's 'Woody Plant' seminar maps the future for the local industry
Recently AFBI held a seminar to discuss the future research needs of industries reliant on wood based plants in Northern Ireland. The seminar featured presentations from experts representing AFBI, QUB and UU in Northern Ireland as well as Teagasc and UCD in Ireland.
New threat to tree health!
AFBI plant health scientists are currently on high alert after a recent finding of a breeding population of the eight-toothed spruce bark beetle (Ips typographus) in the south of England. The eight-toothed spruce bark beetle has the potential to seriously damage Northern Ireland's forests, as over 40% of the trees are spruce, a susceptible host of the beetle.
World Leading Role for AFBI Scientist on assessing Carbon Stocks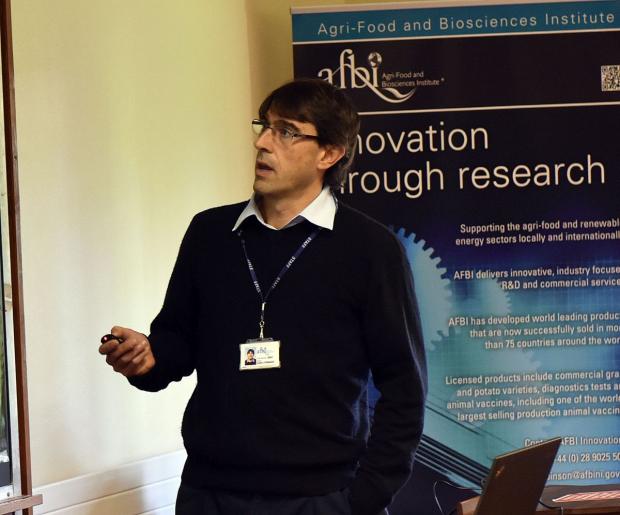 The soil carbon sequestration debate is a global hot topic and over the last number of years AFBI has been represented by Dr Dario Fornara on a United Nations led committee to develop robust guidelines and advice to contribute to this ongoing discussion.
The Island of Ireland Meets on Meat
What is the value of meat in the diet? Should we be eating less meat? How do we make the most of the meat we produce? Meat has been much in the news recently and its role in our diets and our culture is the subject of ongoing discussion. These issues informed much of the debate at a recent "All-Ireland Meat Science Conference", hosted by AFBI and organised by Dr Linda Farmer, Head of Food Research Branch.
Meet the Scientist - Dr Stephanie Buijs
This month Dr Stephanie Buijs from Agriculture Branch talks about her role in AFBI. I joined AFBI's Agriculture branch in February 2018 as Senior Scientific Officer. In that role, I perform scientific research on animal welfare, including all farm animal species. I have a PhD degree from Sweden (2011) and an MSc degree from the Netherlands (2006), and have previously worked in Belgium (ILVO) and England (University of Bristol).
Job Opportunities in AFBI
AFBI currently has one job vacancy which can be viewed on the Northern Ireland Civil Service Recruitment Website
Principal Scientific Officer - Plant Biology AFBI Crossnacreevy
DID YOU KNOW .......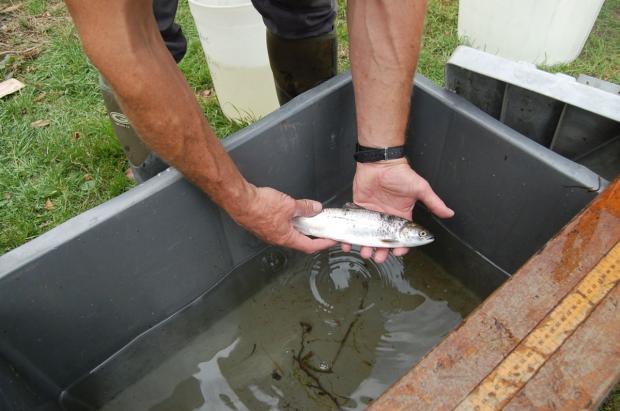 AFBI and Inland Fisheries Ireland, through the Compass Project have tagged over 100 Sea trout in the county Down and Lough coasts over the past year. Listening stations record the positions of individual tagged fish as they pass within range (400m). Warrenpoint harbour now host the latest listening station to detect fish in Inner Carlingford Lough and the Narrow water.