Welcome to Issue 26 of AFBI News and Views
Dr Sinclair Mayne appointed AFBI CEO
AFBI has announced the appointment of Dr Sinclair Mayne as Chief Executive with effect from 1 November 2016. Dr Mayne has been Director of AFBI's Sustainable Agri-Food Sciences Division since February 2013, having previously been Departmental Scientific Adviser with the Department of Agriculture and
Rural Development (DARD) from 2009.
AFBI to host Anaerobic Digestion Demo for farmers
"On-Farm Small-Scale Anaerobic Digestion" is a one-day event taking place on Wednesday the 2 November at AFBI Hillsborough. Hosted by Gary Lyons of AFBI and supported by the AD Network, it will feature presentations by experienced practitioners and researchers who will outline the latest innovations in this field.
Autumn/Winter liver fluke forecast for Northern Ireland 2016-2017
Using a forecasting system based on climate data, AFBI have predicted that the overall risk of liver fluke infection in cattle and sheep during this autumn and winter will be high across all areas of Northern Ireland. The levels of rainfall during June, July and September were higher than the national average.
AFBI scientist provides guest lecture at Queen's University Belfast
Dr Adam Mellor of AFBI recently was invited to give a guest lecture on "Hazardous Marine Life" to 3rd year QUB Medical students undertaking a module on Diving Medicine. The module delivers theoretical and practical experience of the medical issues associated with diving, part of which is an understanding of potential risks from marine organisms.
Science uncovered at Ulster Museum
AFBI researchers participated in "Science Uncovered" at the Ulster Museum at the end of September. The event took place to mark European Researchers night in partnership with the Natural History Museum. The event will happen again at the Ulster Museum next year.
School pupils experience research at AFBI
AFBI recently held a Science Demonstration Day for schools at its Hillsborough research farm. Pupils from schools and colleges across NI obtained an insight into the latest scientific advances in livestock production. Demonstrations spanned the current research programmes in beef, dairy, pig and sheep production, as well as research on animal welfare and the environmental impacts of livestock production.
AFBI at the NI Potato Festival
Carol Hall and Ethel White (AFBI) were kept busy at the NI Potato Festival which was held at the Giant's Causeway on 1 October 2016. Working alongside CAFRE's Food Technology Team they answered queries about potato varieties and potatoes in general.
SIPP Autumn Scientific Meeting
The Society of Irish Plant Pathologists recently held their Annual Autumn Meeting at AFBI Hillsborough. The programme included presentations by leading Plant Pathologists from all over the island of Ireland.
AFBI hosts ICES workshop
AFBI recently hosted the second International Council for the Exploration of the Seas (ICES) workshop on the impact of ecosystem and environmental drivers on Irish Sea fisheries management (WKIrish).
AFBI is joint sponsor of 2016 Beef Conference
Joint sponsors UFU, CAFRE, LMC and AFBI recently confirmed arrangements for a 'Progressive Beef Production' conference at Greenmount on Thursday 17 November. The conference will highlight what the industry currently does well and identify potential areas for improvement.
Meet the Scientist - Professor Nicolae Circoinivoschi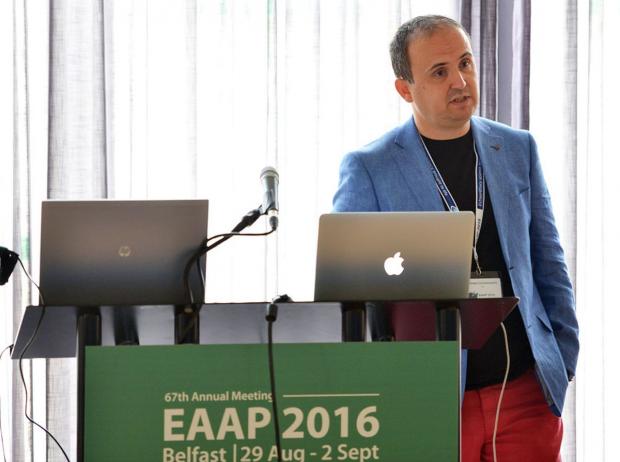 I am originally from Banat, a small region in the south-west of Transylvania in Romania. I have a BSc degree in Animal Biotechnology and an MSc in Animal Nutrition from King Michael I University, Timisoara, Romania. In 2005 I was awarded a PhD in Microbiology from the University of Edinburgh for work on bacterial electron transport proteins.
Date for your diary - AFBI November seminar
AFBI will be holding a lunchtime seminar on Monday 28 November 2016 at 1.30pm entitled "Nature vs Man - The story of who or what shaped the present distribution of Irish freshwater fish" and will be given by Dennis Ensing. It will be held at AFBI Headquarters, 18a Newforge Lane, Malone Upper, Belfast, BT9 5PX.