The "On-Farm Small-Scale Anaerobic Digestion" seminar at the Agri-Food & Biosciences Institute (AFBI) Hillsborough on November 2 was deemed a great success by all of those who attended.
Hosted by Dr Gary Lyons of AFBI and jointly supported by the NIBB Anaerobic Digestion and BioBase4SME Networks, a range of speakers covered many topics including a synopsis of the AD industry in Europe, digestate as a biofertiliser, the commercial potential of digestate nutrient management and also economics of on-farm AD.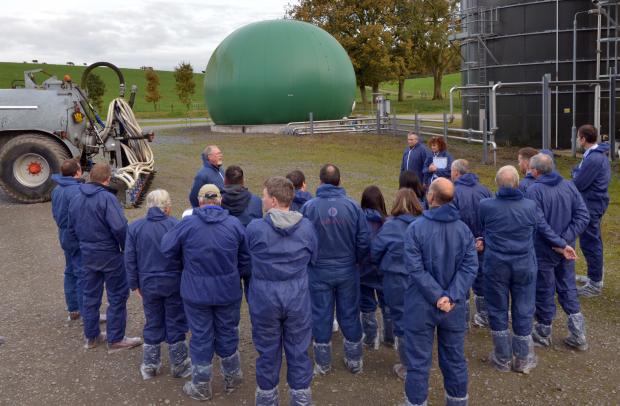 Two case studies detailed the new on-farm plant at Clandeboye Estate and an industry perspective from a local company involved in installation and service provision of farm and large industrial scale AD projects. Presentations on the AD plant as a biorefinery and feedstock pretreatment using a novel cavitation technology were followed by an overview of the AD research undertaken by AFBI and the plans for it's new nutrient management centre at Hillsborough.
Participants were then taken on a site visit to the AD plant and Environment and Renewable Energy Centre based at AFBI's Hillsborough research farm. AFBI have taken the lead in local on-farm AD research and demonstration since 2008, with many groups coming to visit the plant and discuss the technology and associated research.
Gary Lyons from AFBI commented – "it was great to see such a large turnout for the event with 65 people in attendance. Feedback from those participating was extremely positive and the presentations were excellent and very informative, helping to make the day a great success".
Angie Bywater from the ADNetwork commented – "I hope everyone enjoyed the presentations, the speakers did a good job of covering many aspects associated with small scale AD. I thought there was a very interesting mix of people attending and hope that everyone who wanted to go managed to".
Notes to editors:
AFBI carries out high quality technology research and development, statutory, analytical, and diagnostic testing functions for DAERA and other Government departments, public bodies and commercial companies.
AFBI's Vision is "Scientific excellence in Northern Ireland … serving the world".
All media enquiries to AFBI Press Office