The Agri-Food & Biosciences Institute (AFBI) has received a prestigious funding award from the European Commission Horizon 2020 scheme.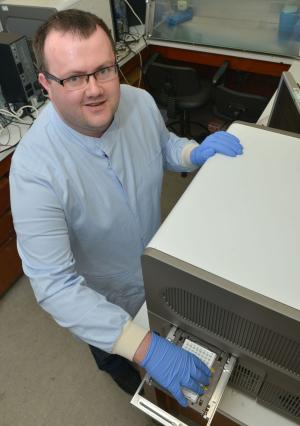 A Marie Skłodowska-Curie Individual Fellowship has been awarded to allow a visiting scientist, Dr P J Collins, to work and train at AFBI for the next two years. Dr Collins will work in the porcine virology laboratory, headed by Dr John McKillen, within AFBI's Veterinary Sciences Division.
Dr Collins will be applying state-of-the-art technologies to identify new or emerging viruses in pigs to help the agri-food industry's preparedness for future threats. "I am delighted to have the opportunity to work at AFBI," said Dr Collins. "This award allows me to develop my skill base at a high-class scientific institute and will help prepare me for the next stage of my career as an independent researcher."
Emerging viruses pose a significant threat to animal health and welfare, food security and rural prosperity and this work is a timely addition to the animal health research portfolio carried out at AFBI. These research activities will be coupled with a comprehensive, multi-disciplinary training programme for Dr Collins.
"Marie Curie fellowships are highly competitive and the award to AFBI is an indication of the high quality of the animal health research that is undertaken, the reputation of the scientists and the calibre of scientific and support infrastructure here," said AFBI's Dr McKillen.
Notes to editors:
AFBI carries out high quality technology research and development, statutory, analytical, and diagnostic testing functions for DARD and other Government departments, public bodies and commercial companies.
AFBI's Vision is "Scientific excellence in Northern Ireland … serving the world".
All media enquiries to AFBI Press Office