As dairy cows often have to walk a considerable distance between parlour and pasture, laneway surfaces are of great importance for cow welfare. Softer and less abrasive surfaces may improve cow flow, increase cow comfort and prevent lameness due to hoof problems.
With an average cost of white line disease estimated to be £193 in treatment costs and lost milk production, strategies to minimise the incidence of, and aid recovery from, lameness are needed. AFBI recently conducted a series of studies to evaluate if dairy cows moved more comfortably over an artificial grass laneway surface compared with standard gravel laneways.
Cows preferred an artificial grass surface
In one study, 132 dairy cows could choose between using either an artificial grass surface or a stoned laneway surface (see Photo 1). On their way to pasture, cows passed through the test setup where they had to make such a choice over four 25m stretches of laneway
(see Figure 1).
Cows were first directed to the centre of the laneway by triangular fencing and then they could choose either the artificial grass or the standard surface. Cows were tested in pairs and only the choice of the first cow of the pair was recorded. In the days prior to the trial all cows had been given access to both sides of the laneway to familiarise themselves with the location and feel of the artificial grass.
Overall, cows chose the artificial grass surface 3 out of 4 times, showing a significant preference for this surface. This preference was especially clear for cows showing more signs of lameness (a mobility score of 3 or above on a scale of 1-high to 5-low mobility). In total 42% of cows with a mobility score of 3 or above chose to only walk on the artificial grass, with only 5% choosing the standard surface more often than the artificial grass.
The artificial grass is markedly softer, even to a person walking over it in boots, and this softness is likely to reduce some of the pain or discomfort caused by hoof problems in lame cows.
Cows walked faster on an artificial grass surface
In addition to the cows' preference, the way they moved over the two surface types was assessed as shown in Photo 2. This was done in a separate trial in which the pair of cows could no longer choose, but had access to only one side of a 100m long laneway, half of which was covered with artificial grass and half of which was a standard stonedust-over-gravel surface.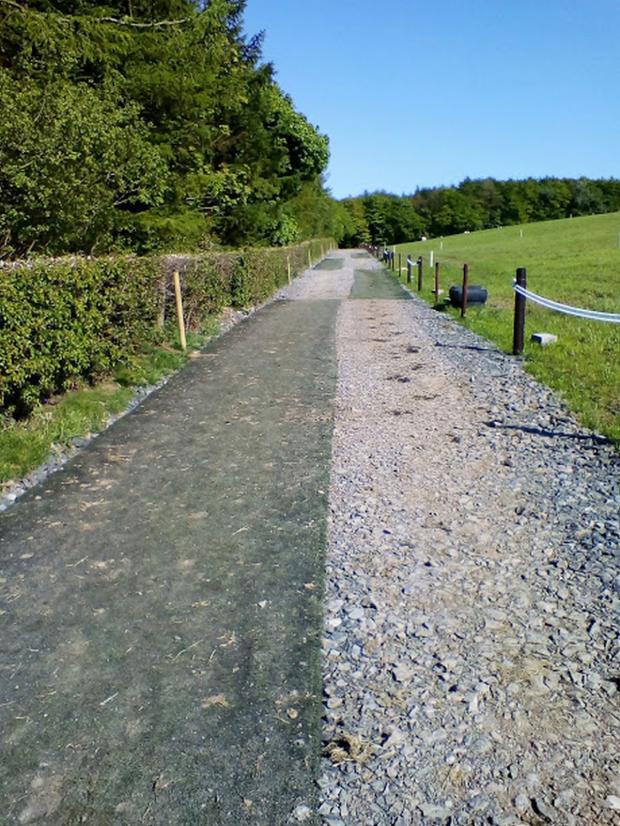 Videos were used to allow accurate assessment of walking speed, stride length and mobility score on both surface types. Cows walked slightly faster on the artificial grass, at 3.3 mph as compared to 3.1 mph on the standard surface. Again, this suggests that they moved over the artificial grass with greater ease than over the standard laneway, offering improvements in cow flow. Further work is on-going to monitor cow walking speed, stride length and mobility score on the two surfaces.
In conclusion
Cows in these studies clearly preferred artificial grass laneways, as suggested by the preference for this surface, and a higher walking speed indicative of a more confident gait. Lame cows also showed a stronger preference for the artificial grass, suggesting that it may relieve pain or discomfort due to hoof problems.
At present, the typical cost of installing artificial grass (£1.25 per square metre) is comparable to a surface covering of fine material e.g. quarry dust (£1.20 per square metre, assuming a 6cm depth of quarry dust at £10/tonne). Further research is required to investigate durability and long term impact of artificial grass surfaces on the incidence of lameness in dairy cows.