The Agri-Food and Biosciences Institute (AFBI) recently hosted a highly topical seminar delivered by a world renowed Agricultural Economist - Professor Bruce McCarl from Texas A&M University.
Prof McCarl challenged the audience that the world and, in particular the agricultural sector, needed to adapt in response to the challenges posed by Climate Change more so than trying to mitigate against them.
As a member of the Intergovernmental Panel for Climate Change, he was able to draw on a range of worldwide studies. This included projected impacts of climate change on crop and milk yields, which showed yields increasing with temperature up to a certain point but declining sharply thereafter.
Within the livestock sector, it is projected that a hotter climate in the south of the US will lead to increases in the length of time to grow beef cattle and pigs to a given weight and reductions in calving rates, milk production and grass growth.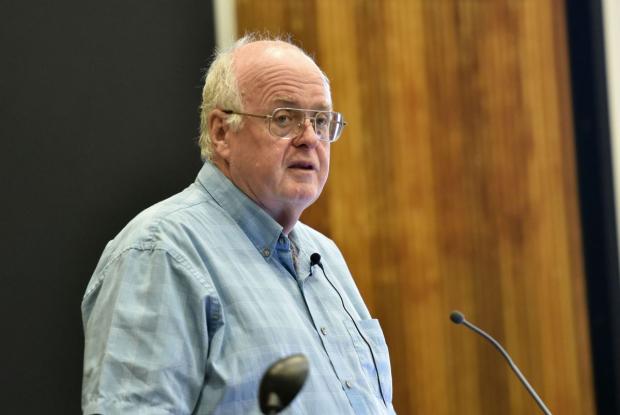 However, he reported that observed adaptations to climate changes are already apparent in the US, with shifts in crop production to the North and North West, leading to higher transportation costs. It is also projected that stocking rates will decline and more heat-tolerant livestock breeds will be favoured, such as Braham cattle.
In concluding the seminar, Professor McCarl argued that the pace of adaptation is likely to be unprecedented and he highlighted the need to devote resources to technological adaptation to maintain productivity at current levels. Given that climate change implies shifts in production patterns, investments in adaptation research will be needed even for regions that may benefit from changes in climatic conditions.
Notes to editors:
Dr Bruce McCarl is a University Distinguished Professor and Regents Professor of Agricultural Economics at Texas A&M University.
He delivered a seminar on "Climate change, livestock and the inevitability of adaptation" on Friday 31 August as part of the AFBI-Economics Outreach Programme.
TO VIEW THE PRESENTATION PLEASE CLICK HERE
AFBI carries out high quality technology research and development, statutory, analytical, and diagnostic testing functions for DAERA and other Government departments, public bodies and commercial companies.
AFBI's Vision "Advancing the Local and Global Agri-Food Sectors Through Scientific Excellence".
All media enquiries to AFBI Press Office