The Agri-Food and Biosciences Institute (AFBI) recently joined the COsmic-ray Soil Moisture Observing System UK network (COSMOS-UK).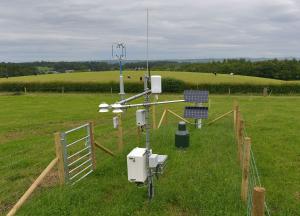 This network is co-ordinated by the Centre for Ecology and Hydrology and funded through the Natural Environmental Research Council.
State of the art technology has been installed at the ABFI Hillsborough Farm, which will monitor soil moisture over an area of 40 ha in addition to collecting environmental data on weather, soil temperature and solar radiation. All the data is automatically logged and transmitted remotely to CEH to become part of the COSMOS–UK database of 29 sites across the UK, providing publically accessible near-real time data to be used in farming, management of water resources, flood forecasting and a wide range of environmental modelling. AFBI staff have also contributed to the establishment of a second COSMOS–UK site at the CAFRE Glenwherry Hill Farm in Country Antrim.
In addition to providing data to the UK network, the COSMOS equipment will be an invaluable research resource for studies carried out at Hillsborough on agricultural production, gaseous emission and nutrient export from soils. Soil moisture is a key variable controlling agricultural production and its impacts on the environment. The drainage class of the soils located at Hillsborough are representative of 46% of the soils across Northern Ireland. As such the COSMOS data collected at AFBI Hillsborough will contribute to the development of practical on-farm solutions to issues such as extended grazing, slurry application, nutrient use efficiency, soil trafficability and agri-environmental measures.
Soil moisture will be measured using cosmic ray technology, which provides average values over an area 700m in diameter. Changes in soil moisture and temperature with depth will be measured using time domain transmissometry probes, soil temperature probes and soil heat flux plates, with an automatic meteorological station providing additional weather data. Further information on the technology can be found at the COSMOS-UK website.
There is the potential to expand the COSMOS-UK network in Northern Ireland with selection of further sites based on: availability of an area of 12m x 3m to install the equipment for a minimum period of 5 years; uniform land cover and reasonably flat within 350m radius; absence of surface water within 350m radius; avoid shallow groundwater; suitably exposed for meteorological equipment; low likelihood of vandalism/theft; good mobile phone coverage (GPRS, for data feed), and accessible by vehicle for installation work.
For further information please contact AFBI Water Quality Catchment Scientist, Dr Donnacha Doody.
Notes to editors:
AFBI carries out high quality technology research and development, statutory, analytical, and diagnostic testing functions for DARD and other Government departments, public bodies and commercial companies.
AFBI's Vision is "Scientific excellence in Northern Ireland … serving the world".
All media enquiries to AFBI Press Office