The meat industry accounts for 50% of Northern Ireland's agricultural output and, in these challenging times, the quality of our produce has never been more important.
The shelf-life of meat is a key challenge for the entire meat supply chain, especially given the distance to major markets in Great Britain. The shelf-life of fresh meat is inherently limited and, unfortunately, this can lead to considerable wastage for both consumers and retailers, as highlighted by WRAP (Waste and Resources Action Programme)[1].
The Food Research Branch team at the Agri-Food and Biosciences Institute is identifying strategies to extend shelf-life and is working with the meat industry to mitigate financial losses and also contribute to sustaining the industry and protecting the environment.
Over the past number of years AFBI have become a leading expert of High Pressure Processing (HPP) and have helped many companies of varying sizes, market their products internationally through the use of HPP. HPP is a cold pasteurisation technique that subjects packaged foods to high pressures in a water medium. HPP has been proven to extend product shelf-life by inactivating the vegetative flora present in food.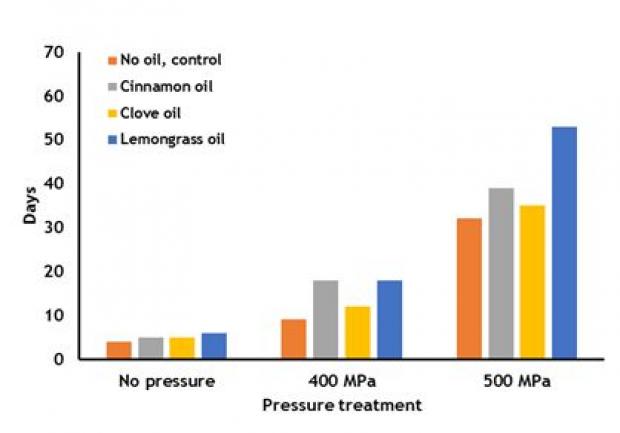 Recently, AFBI have been investigating the use of essential oils as novel strategies to extend shelf life. Cinnamon bark, clove bud and lemongrass oils have been tested with results showing promise for their use. These oils appear to inhibit food spoilage microorganisms and when used in combination with HPP have been found to extend shelf life significantly. Special active packaging films have been developed using these oils and their effects on shelf life extension, in combination with HPP have been investigated. Figure 1 demonstrates how, used on their own, the essential oils extended shelf life of raw minced beef by 1-3 days but used in combination with HPP, shelf life was extended by up to 35 days.
The next goal for the AFBI Food Research team is to identify which naturally occurring compounds cause this effect and investigate whether or not similar compounds can be extracted from the waste streams of Northern Ireland's food industry. Preliminary results are very encouraging and the outlook for developing a circular food economy is exciting!
[1] https://www.wrap.org.uk/food-drink/business-food-waste/meat
Notes to editors:
AFBI is an arms-length body of DAERA delivering research and development, diagnostic and analytical testing, emergency response capability and expert scientific advice for DAERA and other government departments, public bodies and commercial companies in Northern Ireland, and further afield.
AFBI's Vision is "Advancing the Local and Global Agri-Food Sectors Through Scientific Excellence".
AFBI's core areas:
- Leading improvements in the agri-food industry;
- Protecting animal, plant and human health;
- Enhancing the natural and marine environment.