John Clarke, from Ballintoy on the North Antrim coast was a renowned potato breeder. Despite having no formal education, he became a recognised world expert on the science of potato breeding, producing many varieties, some of which are still widely produced.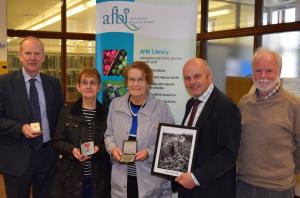 His first variety, Ulster Monarch, was certified in 1936. Over the next 51 year's he was to have 33 varieties certified, of which the first 30 had the prefix Ulster.
John was respected by his contemporaries and won many accolades. He was awarded the Lord Derby Gold Medal in 1948, a Master of Agriculture Degree by QUB in 1950, the John Snell Medal by the National Institute of Agricultural Botany, Cambridge in the mid-1950s and in 1957 the Belfast Telegraph Cup for Outstanding Achievements in Agriculture. John was awarded the OBE in 1969.
The Clarke family, in conjunction with AFBI, wish to celebrate John's contribution to potato breeding by hosting an exhibition in the AFBI Library, Newforge to commemorate John's work. Recently two members of the family- Miriam Hanna (daughter) and Rosemary McGarry (niece) - delivered the material for the exhibit to Newforge. They were welcomed by the AFBI Chief Executive, Dr Sinclair Mayne, AFBI Librarian, Karen Latimer, Potato Breeder Paul Watts and Head of Grassland and Plant Science Branch, Professor Jim McAdam. The loaned material on display in the exhibition includes medals, awards, photographs, newspaper articles and family correspondence. AFBI is pleased and honoured to be hosting this exhibition to John Clarke, an innovative and pioneering local agricultural scientist who made a significant contribution to potato breeding.
The exhibition is hosted in the AFBI Library, Newforge Lane, Belfast and, following a formal launch on 22nd May at 2.30pm, will be open to all members of the public.
Notes to editors:
AFBI carries out high quality technology research and development, statutory, analytical, and diagnostic testing functions for DAERA and other Government departments, public bodies and commercial companies.
AFBI's Vision is to Advance the Local and Global Agri-food Sectors through Scientific Excellence.
All media enquiries to AFBI Press Office