The Agri-Food and Biosciences Institute (AFBI) Food Research team recently presented important advances in the areas of food quality, innovation and preservation as identified from their research programme to their portfolio of industry customers and Department of Agriculture, Environment and Rural Affairs (DAERA) colleagues.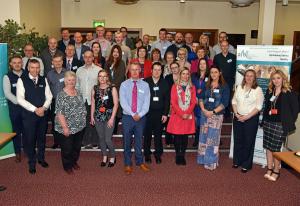 The Food Research Team is led by Linda Farmer and the advances that were presented highlighted future opportunities to further enhance Northern Ireland's reputation for high quality, safe and flavoursome food.
Jonathan Birnie (Birnie and Associates Consultancy Ltd) chaired the morning session which focused on "Meeting Consumer Demands". Colin McRoberts (dairy scientist at AFBI) discussed how AFBI research is investigating novel approaches to enhance the nutritional quality of milk. He highlighted that the vitamin D content in milk from cows grazing fresh grass is significantly higher than those fed fresh grass or silage indoors, providing an opportunity to naturally enrich milk with Vitamin D.
The extensive range of sensory research conducted by AFBI using both trained panels and consumer panels across the British Isles was outlined by Terence Hagan who also highlighted new techniques available. Irene Chong described her PhD studies on the regional effects on consumer acceptability of beef. She found that all consumers tended to like the same beef, but that GB consumers gave higher scores for "Liking" of the flavour, tenderness and juiciness of the beef presented than those from Northern Ireland or the Republic of Ireland. An update on research on the causes of sporadic off-flavours in lamb was provided by Janeen Speers, who reported that these were not clearly related to gender, breed or diet. Work is ongoing to understand the multiple causes.
Joy Alexander (CAFRE) chaired the afternoon session on "Processing, Measurement and Prediction" where David Farrell from AFBI explained the technique of hyperspectral imaging, and the opportunities offered for on-line measurement and prediction of quality. The possibilities of extending shelf-life of meat through the use of high pressure processing with active packaging were presented by Joan Tollerton. Linda Farmer described how marker compounds have been identified for flavour acceptability and how these are being used to find ways to add value to beef.
During the discussion sessions that followed, a number of key considerations for the future were identified which will be taken forward by the AFBI team.
A concluding tour of the food research facilities provided attendees with an insight into the complexity of hyperspectral imaging and the flavour chemistry laboratories. All the talks are now available on the AFBI website for anyone who missed this insightful event.