Christmas Message from AFBI CEO and staff
AFBI Research on view at Winter Fair
AFBI researchers were out in force at the 2018 Winter Fair to highlight topical research projects and issues facing the NI dairy industry. Our dairy researchers and vets were on hand to help farmers with health planning for their animals and silage quality and zero-grazing. The Winter Fair now in its 33rd year is a major highlight in the agricultural calendar and the AFBI stand had many visitors passing by for some friendly conversation and advice.
AFBI unveils Ballintoy and Gosford – new ryegrasses for spring 2019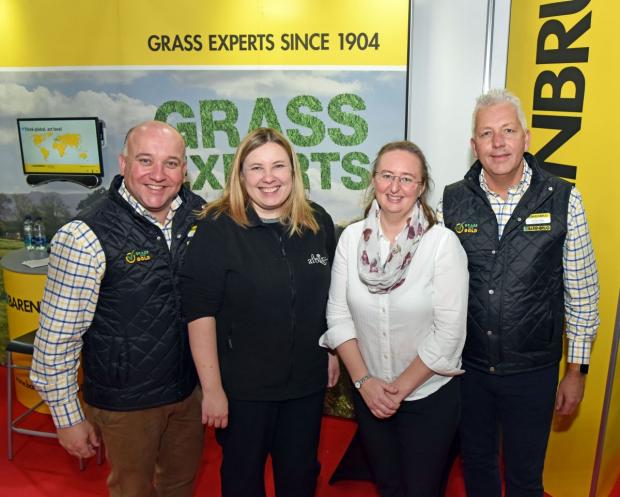 AFBI launched its most recently developed grass varieties, Gosford and Ballintoy, at the 2019 Winter Fair on 13th December. Ballintoy and Gosford are the newest varieties to be released from the AFBI grass breeding programme at Loughgall. The varieties will be marketed through AFBI's commercial partner Barenbrug UK Ltd and limited quantities of seed will be available in spring 2019.
Beef Conference – 'Healthy Cattle, Healthy Profits' held in conjunction with partners
'Healthy Cattle, Healthy Profits' was the subject under the microscope at a Conference at Greenmount recently and which looked at ways to improve profitability. The conference organised by Ulster Farmers' Union (UFU),AFBI, College of Agriculture, Food and Rural Enterprise (CAFRE), Livestock and Meat Commission (LMC), and National Beef Association (NBA) had a number of speakers from across the industry.
AFBI Scientist wins Belfast Ambassador Award
Professor Nicolae Corcionivoschi Head of Food Microbiology AFBI has won a prestigious 2018 Belfast Ambassador Award. Professor Corcionivoschi, was presented with his award during an event at the International Conference Centre (ICC) Belfast on October 25 in recognition of his successful application to host the 20th International Workshop on Campylobacter, Helicobacter and related organisms (CHRO) in Northern Ireland in 2019.
Unexpected variation in badger behaviour found by scientists may cause a rethink on impacts of bovine TB interventions
European badgers are a widely distributed and extremely adaptable species, but within Ireland and the UK they particularly like agricultural land, where, unfortunately, they can act as a wildlife reservoir of bovine tuberculosis (TB). Recent research led by Dr Andrew Byrne of AFBI has shed new light on how this species can exhibit a range of different movement behaviours across a large pasture-dominated landscape and how such variation might impact the outcomes of bovine TB interactions.
AFBI survey identifies factors influencing grass silage quality on dairy farms
Over the last two decades the laboratory at AFBI Hillsborough has analysed over 80,000 grass silage samples from NI farms. Whilst the dry matter content of silage increased over this time, in general, there was little improvement in it's nutritional quality. In order to address this AFBI is leading a major DAERA and AgriSearch co-funded research project which is seeking to bring a renewed focus on grass silage quality.
AFBI Fisheries Scientist appears on UTV Series 'Lough Neagh'
Dr Derek Evans from AFBI's Fisheries & Aquatic Ecosystems Branch (FAEB) recently appeared on an episode of UTV's highly successful series Lough Neagh which takes UTV presenter Joe Mahon on a unique tour of Lough Neagh. The programme featured a silver eel tagging run which FAEB carry out annually to assess the Lough Neagh fisheries compliance with the EU eel stock recovery regulation.
Read more and to view programme
Presentation of Long-service Certificates
Over the past few months AFBI's Sustainable Agri-Food Sciences Division (SAFSD) has said a fond farewell to four highly dedicated and long serving members of staff. The AFBI Board recently congratulated (pictured L-R) Mr David Johnson, Professor Jim McAdam, Mr William Morrison and Mr Dessie Irwin on their long service which totalled over 176 years service to AFBI, and its predecessors organisations DARD, DANI and ARINI.
Meet the Scientist - Dr David Patterson
This month Dr David Patterson (Agriculture Branch) talks about his role in AFBI. David graduated from Queen's University with a degree in Agriculture and also obtained a PhD on grass/clover sward dynamics. He then worked for QUB as the Turfgrass Breeder at Loughgall before taking up a Grassland Technologist post at Greenmount College. After working in various roles within DANI, DARD and then DAERA David finally came 'back to grass' in January 2018 to take up the post of AFBI Grassland Agronomist based at Hillsborough.
Job Opportunities in AFBI
AFBI currently have job vacancies which can be viewed on the Northern Ireland Civil Service Recruitment Website
They include:
Senior Scientific Officer - Catchment Modelling
Economist
Economist - ALICE Project
Senior Economist - Environmental Economics
Did You Know?

AFBI is now on INSTAGRAM. Visit the AFBI Instagram Page HERE and please follow us to keep up to date with AFBI posts and information!