AFBI Stakeholder Open Meeting 2017
It is less than 2 weeks until AFBI's Annual Stakeholders Open Meeting which will be held on Thursday 1 June from 9.00am to 2.30pm. This year the meeting coincides with World Milk Day and to mark this event, we are pleased to welcome Dr Keith Agnew, Chief Executive of United Feeds Ltd and President of the Northern Ireland Grain Trade Association who will provide the keynote address 'The Importance of Research and Innovation in Dairy Systems'.
Another successful Balmoral Show for AFBI
This year, AFBI had two stands at the extended 4-day Balmoral Show which was held at Balmoral Park, Lisburn from 10-13th May and was attended by a record number of visitors. AFBI services were promoted to farming families in the Government Departments Exhibition and the AFBI exhibition trailer was also deployed as a stand promoting the work of AFBI in support of the fishing industry in both freshwater and marine environments.
Invest NI delegation visits AFBI
Senior scientists from across AFBI's scientific disciplines gathered at AFBI Hillsborough to welcome an Invest NI sponsored delegation which included visitors of the government, NGO's and the private sector from Ukraine, Algeria and Iran.
Prestigious UK award goes to AFBI's new Director
AFBI's new Director of Sustainable Agri-Food Sciences Division, Dr Elizabeth Magowan, recently received the British Society of Animal Science's (BSAS) most prestigious award – the Sir John Hammond Award in recognition of scientific achievements with industry application in the area of pig research.
AFBI Postgraduate Showcase – Sharing the Science
AFBI students and supervisors are getting ready for the 2017 Postgraduate Showcase 'Sharing the Science' which is to be held at AFBI Hillsborough on Wednesday 7 June. This event follows on the success of the 2015 and 2016 AFBI Postgraduate Symposia which have been praised for the high quality of work from AFBI students.
AFBI's advice on Black grass and brome grass in NI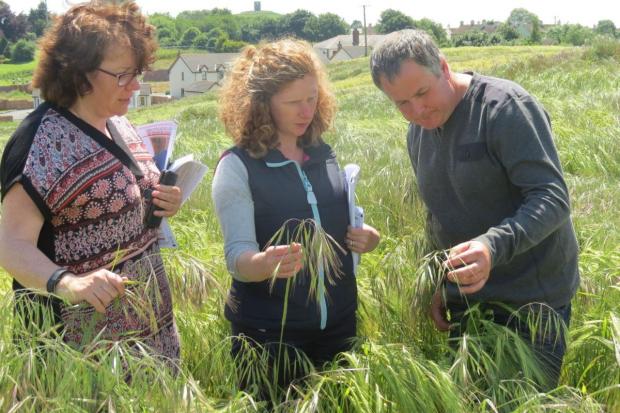 Black grass (Alopecurus myosuroides) is a serious problem weed in cereal crops in England. Black grass reduces crop yields through competition for nutrients, especially nitrogen. Herbicide resistant Black grass has been confirmed in 34 counties in England and has also been detected in Scotland. In the last couple of years there have been instances of Black grass reported in crops in Northern Ireland and it is well established in some areas.
AFBI Scientists feature on Radio Ulster's "The Foodie"
"The Foodie" a Radio Ulster programme which looks at all aspects of local food was recently at AFBI Hillsborough to record a programme featuring some of AFBI's Scientists. During the programme Kim Lenaghan explored the world of beef production and discovered new rearing techniques at AFBI Hillsborough, while Dr Linda Farmer, AFBI Food Scientist tested Kims taste buds at the AFBI food sensory lab.
AFBI's Plant Science showcased in SaPa, Vietnam
Dr Richard O'Hanlon (Plant Pathologist in AFBI's Grassland and Plant Science Branch) presented his work on Phytophthora diversity in trade and non-trade habitats in Ireland at the IUFRO (International Union of Forest Research Organizations) conference on Phytophthora in Forests and Natural Ecosystems in SaPa, Vietnam.
SMOLTRACK Project - Tracking salmon smolts in Europe
AFBI is a partner in an EU funded NASCO project, SMOLTRACK, through which salmon smolts from a number of rivers across Europe are being monitored. The SMOLTRACK project involves counting, tagging and tracking smolts on each river. Traps are used to catch downstream migrating salmon smolts for tagging before releasing them to continue their seaward migration.
Fane Valley Feeds visit AFBI Hillsborough
During a recent trip to AFBI Hillsborough, the Fane Valley Feeds Technical and Sales Teams gained valuable experience from Dr Debbie McConnell in measuring and budgeting grass. Commenting on the visit, Dr Hazel Gilmore noted, "This recent training and our investment in technology, allows us the ability to assist in increasing grass growth and utilisation on farms".
AFBI hosts exhibition to celebrate John Clarke (1889-1980) – a Potato Wizard
John Clarke, from Ballintoy on the North Antrim coast was a renowned potato breeder. Despite having no formal education, he became a recognised world expert on the science of potato breeding, producing many varieties, some of which are still widely produced. The Clarke family, in conjunction with AFBI, wish to celebrate John's contribution to potato breeding by hosting an exhibition in the AFBI Library, Newforge to commemorate John's work which will be open to all members of the public from 23rd May 2017.
Meet the Scientist - Dr Debbie McConnell
This month Dr Debbie McConnell who recently joined AFBI's Agriculture Branch as a dairy research project leader talks about her role in AFBI. My main research focus is dairy grassland production. Currently I am managing a number of very industry relevant research projects including research on optimising zero-grazing management systems and providing grass growth forecasts through the long running GrassCheck programme.
DID YOU KNOW .......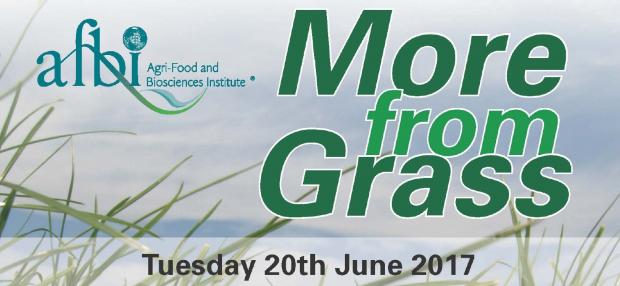 AFBI's Grass Breeding Programme was established in 1952 and has produced more than 30 varieties widely used on Farms in Ireland, UK and many countries in Europe. There will be an Open Day at AFBI Loughgall, Plant Breeding Farmyard, Ballygasey Road, Loughgall, Armagh on Tuesday 20th June entitled "More from Grass". This is a drop in event and everyone is very welcome. More information HERE.