New AFBI Chief Executive Announced
AFBI has announced the appointment of Dr Stanley McDowell as Chief Executive, with effect from 3 September 2018. Dr McDowell has been Director of AFBI's Veterinary Sciences Division since February 2013 and over the last five years has led the work of the Division across a wide range of animal health and food safety issues.
AFBI Annual Stakeholder Open Meeting
AFBI's Annual Stakeholder Open Meeting was held on 7th June at AFBI Hillsborough with over 80 of AFBI's major stakeholders attending. This year's event included a presentation from Professor Nigel Scollan (Queen's) who outlined details of the AFBI/QUB Strategic Alliance, this was followed by the launch of AFBI's new Corporate Plan 2018-2022 which outlines AFBI's ambitions over the next four year period. Finally AFBI researchers highlighted three key areas of current research which included results from the NI wide soil sampling study, Exotic and emerging viral disease risks - AFBI's role in protecting the NI livestock industry and the art of successful grass breeding.
Science shines at AFBI Dairy Open Day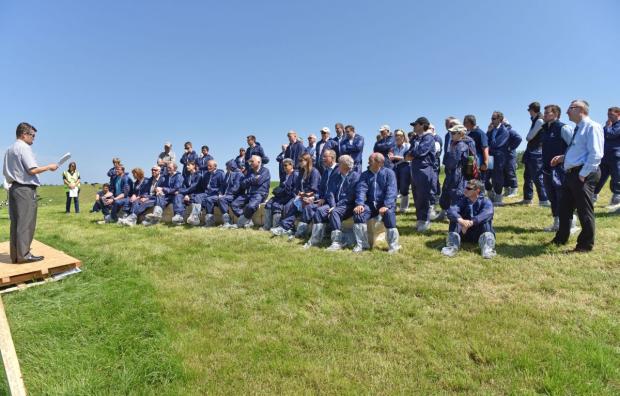 The sun shone all day at the Dairy Open Day at AFBI Hillsborough on Wednesday 6th June, but it was the science that shone brightest and was the star of the show. Over 800 visitors attended the all-day event, entitled 'Dairy Innovations 2018 - Profiting from AFBI Research', which was supported by AgriSearch and CAFRE. Farmers and industry visitors were guided around a number of in-field presentations where leading AFBI researchers presented key findings from their research.
AFBI delivers the UK's most Extensive and Comprehensive Soil Sampling Scheme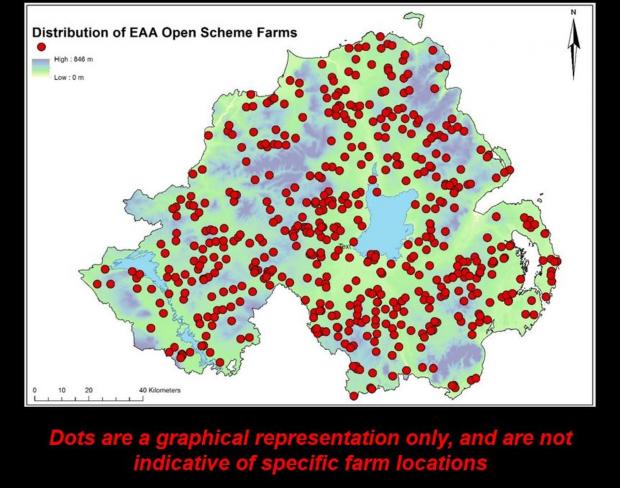 The end of March saw the successful completion of the European Exceptional Adjustment Aid (EAA) funded Soil Sampling and Analysis Scheme which was delivered by the Agri-Food and Biosciences Institute to farm businesses across Northern Ireland. Almost 20,000 fields were soil sampled across the whole of Northern Ireland over the recent autumn/winter season using GPS technology to record field locations and sampling transects.
Better use of grassland could save UK Agriculture over £1.6bn each year
That was the message delivered at Westminster recently by Dr Sinclair Mayne, CEO of AFBI who was at Westminster presenting to the All-Party Parliamentary Group on Science and Technology in Agriculture. Dr Mayne commented that, ''A renewed focus on grassland management and the use of new technologies can significantly improve farm profitability whilst reducing nutrient loss to the environment and enhancing carbon sequestration from grassland.''
Determining the population size and conservation status of Ireland's rarest mammal – the pine marten
Within the EU Habitats Directive, the pine martin is a protected species and it's population size must be monitored and reported on by member states. A recently completed project, led by Dr Declan O'Mahony from AFBI, and in collaboration with scientists from Waterford Institute of Technology and assistance from the Vincent Wildlife Trust, has conducted the largest-scale population density and abundance scientific study of pine marten anywhere in Europe.
Date for your Diary: AFBI Lunchtime Lecture "The Gut, the Chicken and the Bug .... a tripartite against antibiotic resistance"
AFBI will be holding its final lunchtime seminar before the summer break on Thursday June 28th from 1.00pm-2.00pm at AFBI Headquarters, 18a Newforge Lane, Malone Upper, Belfast, BT9 5PX. The lecture will be given by Professor Nicolae Corcionivoschi and is entitled "The Gut, the Chicken and the Bug .... a tripartite against antibiotic resistance".
AFBI Job Vacancies
AFBI currently have job vacancies which can be viewed on the Northern Ireland Civil Service Recruitment Website
They include:
Laboratory Assistant
Farm Manager - Agricultural Inspector Grade III
Database Administrator - ICT Level 4 (2 posts)
IT Services Manager - ICT Level 5
DID YOU KNOW .....
AFBI Professor Louise Cosby, Head of Virology Branch has joined the European Network of Vaccine Adjuvants (ENOVA), which brings together European experts and stakeholders working in different areas of adjuvant and vaccine research and development, including both prophylactic and therapeutic applications as well as human and veterinary vaccines.