AFBI's research vessel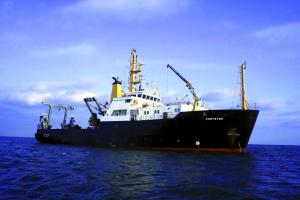 Fishery-independent surveys of fish stocks are conducted using specialist fishing gear and acoustic techniques. Measurements of key environmental variables are made using over the side sampling equipment and instrumented buoys, which are deployed in the Irish Sea. The vessel is also fully equipped to conduct high-resolution seabed mapping, using sophisticated acoustic sensors, with ground-truthing of marine habitats being achieved by deploying camera sleds or a remotely operated vehicle.
Customers
AFBI undertakes the work onboard Corystes in direct support of the policy objectives of the DAERA fishery customer; together with those of a wide range of other customers, including DEFRA, the Joint Nature Conservation Committee and the European Commission. The integrated marine science programme delivered by Corystes directly supports the key DAERA policy objective of sustainability of Irish Sea fisheries and is contributing to the development of an ecosystem approach to fisheries management, as required by the European Commission. The comprehensive data on fish stocks and the marine environment provided by Corystes is allowing AFBI to investigate the implications of climate change for future fisheries and environmental policy.
Third party hire
Corystes is available for commercial third party hire. For details contact RV Corystes group