Reducing the crude protein content of dairy cow diets can substantially reduce ammonia emissions from manures. This is one of the findings of a major four-year project currently underway at AFBI.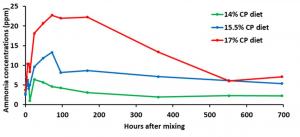 Ammonia is produced when faeces (which contains the enzyme urease) and urine (which contains urea) mix, with this process taking place on the floors of livestock houses, during slurry storage and at field spreading. The ammonia gas produced enters the atmosphere and may be deposited locally on sensitive habitats, where the nitrogen within ammonia can cause nutrient enrichment of soil and water and lead to biodiversity loss. Both Livestock production and sensitive habitats have a significant presence in NI and as such ammonia emissions present a key challenge for the livestock industry in order to support the health of sensitive habitats.
In recognition of these challenges, two of Northern Ireland's animal nutrition companies, John Thompsons and Sons Ltd and Trouw Nutrition Ltd, are partnering with AFBI in a major DAERA funded, four-year project designed to reduce nitrogen losses from dairy systems.
In one of the studies within this project dairy cows were offered diets containing either 14%, 15.5% or 17% crude protein (CP) on a dry matter basis, with the concentrates offered with each treatment formulated using different raw material inclusion levels. During this study samples of faeces and urine produced from cows on each diet were collected and subsequently mixed and incubated in a temperature-controlled environment. Ammonia produced from the different manures was then measured over a four-week period using a photoacoustic gas monitor, with results presented in Figure 1.
Reducing diet crude protein levels from 17% to 14% reduced ammonia emissions by an average of 64%, with emissions from the 15.5% CP diet intermediate. In addition, the results clearly demonstrate that ammonia production was highest during the days after the faeces and urine were produced, and gradually decrease over time. While these results demonstrate that reducing diet crude protein levels can play a role in helping to reduce ammonia emissions from dairy systems, the impacts of lower protein diets on dairy cow performance must also be considered and are currently being examined within this study.
Notes to editors:
AFBI's Vision is "Scientific excellence delivering impactful and sustainable outcomes for society, economy and the natural environment".
AFBI's Purpose is "To deliver trusted, independent research, statutory and surveillance science and expert advice that addresses local and global challenges, informs government policy and industry decision making, and underpins a sustainable agri-food industry and the natural and marine environments".
AFBI's core areas:
Leading improvements in the agri-food industry to enhance its sustainability.
Protecting animal, plant and human health.
Enhancing the natural and marine environment.