During 2020 the Fisheries & Aquatic Ecosystems (FAEB) team in the Agri-Food and Biosciences Institute (AFBI) have been working with DAERA, NI Environment Agency and NI Water to investigate the water quality of inner Dundrum Bay and the implications for shellfish quality.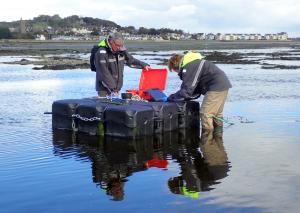 This has been supported by a collaboration with European partners as part of the EU Horizion2020 'GAIN' project.
The main aim of the work is to develop sophisticated catchment models which will assist in making 'sustainable ecosystem' plans for the bay. Knowledge gained form this work could then be used to develop similar models for other coastal areas.
During the course of the project instruments have been situated in the Bay and its catchment to deliver water quality data in real-time and in-turn inform better water management processes.
As part of the work, during early August 2020 a new in situ water quality monitoring buoy was deployed at the entrance to the Bay adjoining the Irish Sea. This instrument logs water quality every 20 minutes and can be monitored in real time through a telemetry system. This is already demonstrating how water quality in the Bay responds to rainfall events in the catchment through changes in salinity and turbidity.
Furthermore, Dundrum Bay has a healthy aquaculture industry and the management of the bay must be designed to support this. Individual mussels can filter around 1.5 litres of water across their gills every hour as they sieve food and other particles from the water and in doing so play an important role in a sustainable ecosystem. Therefore, in order to develop effective management plans for the Bay, it is crucial to understand how the feeding rate of shellfish changes in response to changing water quality. In order to establish this, AFBI's scientists, in collaboration with the University of Essex, School of Life Sciences deployed a novel technique to monitor mussel feeding in late 2020. Magnetic sensors sense the opening and closing of the shells as the molluscs filter the water. Early data shows the sensors have proved successful and valuable data being gathered from the Bay is currently under analysis.
Notes to editors:
AFBI is an arms-length body of DAERA delivering research and development, diagnostic and analytical testing, emergency response capability and expert scientific advice for DAERA and other government departments, public bodies and commercial companies in Northern Ireland, and further afield.
AFBI's Vision is "Advancing the Local and Global Agri-Food Sectors Through Scientific Excellence".
AFBI's core areas:
Leading improvements in the agri-food industry;
Protecting animal, plant and human health;
Enhancing the natural and marine environment.