This month Mairéad Kilpatrick, AFBI Grassland and Plant Science, talks about her role
"All things mushroom" pretty much sums up my career since leaving University 30 years ago. Armed with a biology degree from University of Ulster, Coleraine and the inimitable enthusiasm of youth, I took a post as technical advisor in a mushroom compost plant in Middletown, Co Armagh. Thrown into the commercial world of a 24-7, 365 day-a- year mushroom crop proved to be a steep learning curve and I'll always be grateful to the industry stalwarts of the time who selflessly shared years of knowledge and experience. With their infectious enthusiasm, it was impossible not to be captivated and my fascination with mushrooms and composting is as strong today.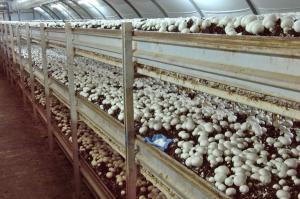 After three years in Industry, I joined the then Department of Agriculture in Loughgall as a Project Leader. Looking back, research wasn't so much a deliberate career choice, as a natural progression seeking solutions to issues that arose on a regular basis. This was particularly true with compost production back then, where little science was applied and compost quality judged using mainly subjective criteria. Yet contrary to the popular adage, composting is a science not an art, and a complex one at that.
Hence, our early research focussed on understanding the bioconversion process, quantifying objective compost assessments, initially through traditional physical, biochemical and microbiological analyses, then by developing rapid techniques such as near infrared spectroscopy (NIRs) and thermogravimetry. These tools were subsequently used to monitor changes in key quality parameters of the raw materials and composting stages for better process control and higher quality substrates.
It never ceases to amaze me looking back, how much we have learned and progressed in a single generation and how much the Industry has been revolutionised by putting science into practice.
Validating Aristotle's adage "the whole is greater than the sum of its parts", one of AFBI's great strengths has always been the ability to use multidisciplinary teams in problem-solving. Much of our own research has involved collaboration and co-operation across a number of specialisms with soil scientists, flavour chemists, entomologists, microbiologists, virologists, statisticians all working together. This unique AFBI capability has also presented funding opportunities that few other organisations could realise.
Just one such example was the unique access to a dozen wheat cultivars from various geographical sites, grown to different crop husbandry protocols in trials run by the Plant Testing Station at Crossnacreevy that facilitated our participation in a Defra funded HortLINK project to understand straw differences and how they impact on the composting process. Time and time again, from local collaborations, grow international partnerships and in mushroom research MushTV is an excellent example of one such strategic alliance.
A quandary in mushroom production is that compost must be formulated to support one fungus – Agaricus bisporus, but to the exclusion of all other competing fungi; as a result pathology has always played a key role in understanding the composting process.
Trichoderma aggressivum, a fungus that causes compost green mould, dramatically reduces mushroom yield and has severe effects throughout the supply chain, particularly if it infects bulk phase III compost production facilities.
MushTV was an EU FP7 €2.5 million co-funded project in DARD's 2012 E&I call. The consortium was made up of 18 partners across all sectors of the Industry from Ireland, Britain, Belgium, the Netherlands and Poland. The project focussed on generating scientific information and technologies in the areas of disinfectants, disease diagnostics and biopesticides to deal with two important diseases affecting mushroom production.
AFBI-Loughgall's research on "Growth, dispersal and impact on yield of Trichoderma aggressivum in bulk Phase III compost tunnels" produced over 40 knowledge transfer outputs: papers, conference presentations, factsheets, posters, podcasts, seminars and technical events that have made a real practical difference on the ground, right across the Industry in Europe.
Another really satisfying achievement of the project was watching a network of relative strangers - scientists, producers, composters and associated businesses, including competitors in the mushroom market place – grow to trust each other and work together pooling scarce resources to resolve common problems with a real sense of collaboration and mutual respect. Going forward, it is these successful alliances that will provide the greatest benefits for the application of science in Industry.
While research is the main part of our work, a co-ordinated Specialist Advisory, Knowledge Transfer and crop specific training remit is also delivered by AFBI from Loughgall. The analytical service for Industry samples is further integrated with the research and BASIS certified advice, as rapid crop development in mushrooms necessitates fast response times for compost and crop advice. This service also develops to incorporate additional analyses and testing generated from the research programme and concurrently informs the programme of new and emerging issues arising in Industry. Essentially a one-stop shop, the model is hailed as best practice and the often daily interaction with industry customers across the whole supply chain, continues to be one of the most challenging but satisfying aspects of my work.
Facts about Mairéad Kilpatrick:
What is your favourite TV/radio show?
The Walking Dead (not sure what that says about me!)
Who would you most like to be stuck in a lift with?
David Attenborough - his life's work is inspirational.
What 3 things would you put on your bucket list?
The RHS Chelsea Flower Show
A fungal foray with Antonio Carluccio
Visit the Galapagos Islands
Can you cook? If so, what is your speciality dish?
Cook yes certainly - with three active teenagers at home, their mates and various Gaelic, Soccer & Basketball teams I'm a dab hand at feeding the masses on short notice. Speciality dishes I tend to reserve for the more discerning palates of friends or family and can cook up a mean Thai green curry, seafood paella or just a simple goats cheese and pesto omelette.
If you weren't in your current position what job/career would you like to be doing?
Boringly, probably finance or accounting. It's a standing joke there's a dominant Maths gene in the family, with get-togethers more like Maths Conventions! The next generation seems to be perpetuating the theory with the two most recent graduates in Maths and Economics from Oxford and LSE.