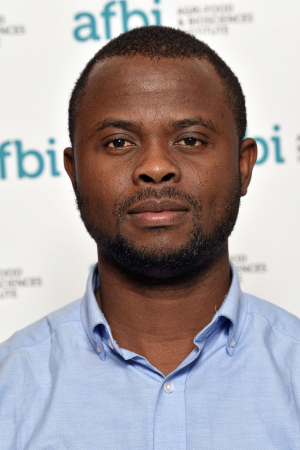 E-mail

Tel

ORCID ID

Kehinde-Oluseyi.Olagunju@afbini.gov.uk

+44 (0) 2890 255005

Research Group

Regional economics and sustainability

Research Interests

Agricultural Production economics
Agricultural Policy Analysis,
Quantitative methods
Agricultural Sustainability

Link to Publications

Researchgate
Biography
Kehinde Oluseyi Olagunju is an Economist at AFBI Office Newforge Lane, Belfast. He completed his Bachelor's degree in Agricultural Economics (First Class Honours) at the University of Ibadan, Nigeria. He then undertook a Master's degree in the same course at Szent Istvan University in Hungary, where he graduated with a Distinction grade.
His research focuses on using econometric techniques in analysing agricultural systems to inform policy directions. Recent research projects conducted for the Department of Agriculture, Environment and Rural Affairs (DAERA) include investigating the impact of Common Agricultural Policy reforms on Farm production and Land Rental Prices to provide policy support for the design and implementation of future reforms of agricultural subsidies in the post-BREXIT era. As part of the Evidence and Innovations Project funded by DAERA, Kehinde worked on developing a framework for estimating trends and drivers of productivity growth of Northern Ireland's dairy farm sector.
He has won several academic excellence awards and grants including the prestigious Food and Agricultural Organization (FAO) Scholarship Award, and the Bill and Melinda Gates Foundation research travel grant award. He is a member of the Agricultural Economics Society (AES), International Association of Agricultural Economists (IAAE), and OECD Network for Farm-Level Analysis among other professional bodies.
Select Publications
Olagunju, K.O., Angioloni, S., Wu, Z., (2022). How has the 2013 decoupled payment reform affected farmland rental values in Northern Ireland? Land Use Policy 112, 105829
Olagunju, K.O., Feng, S., Patton, M., (2021). Dynamic relationships among phosphate rock, fertilisers and agricultural commodity markets: Evidence from a vector error correction model and Directed Acyclic Graphs. Resources Policy 74, 102301
Lowenberg-DeBoer, J., Behrendt, K., Ehlers, M.-H., Dillon, C., Gabriel, A., Huang, I.Y., Kumwenda, I., Mark, T., Meyer-Aurich, A., Milics, G., Olagunju, K.O., Pedersen, S.M., Shockley, J., Rose, D., (2021). Lessons to be learned in adoption of autonomous equipment for field crops. Applied Economic Perspectives and Policy.
Olagunju, K.O., Patton, M., Feng, S., (2020). Estimating the Impact of Decoupled Payments on Farm Production in Northern Ireland: An Instrumental Variable Fixed Effect Approach. Sustainability 12, 3222
Olagunju, K.O., Samuel, A., Sherry, E., (2021). Dairy Sector Productivity Growth in Northern Ireland: Trends and Drivers. A Technical Report submitted to Department of Agriculture, Environment and Rural Affairs, Belfast, Northern Ireland.