Bronze Diversity Mark
AFBI are delighted to say that they have been awarded the Bronze Diversity Mark Accreditation in recognition of their ongoing commitment to diversity and inclusion in the workplace.
Diversity Mark was established by Women in Business NI, in order to support and encourage organisations that aspired to challenge the diversity barriers that are faced within the business environment.
The Diversity Mark accreditation is the 'Mark of Progress' that allows an organisation to demonstrate to employees, customers and suppliers their commitment to creating an inclusive & diverse workplace.
AFBI is committed to improving diversity within the organisation and in the first 5 years, specifically addressing the gender imbalance that is faced by working in the STEM industries.
Pieter-Jan Schön, Director of Environment & Marine Science and Diversity & Inclusion Champion commented: We want to do all we can to create a balanced and inclusive workplace whilst supporting opportunity for all in the workplace.
A more balanced workforce isn't just the right thing to do, it will support AFBI in achieving organisational goals, driving innovation, attracting and retaining the best talent and providing opportunities for development for all.
I look forward in working to making a difference in this area.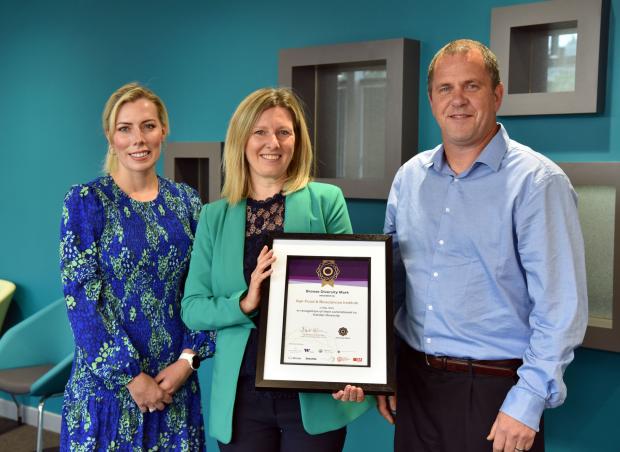 Diversity Mark website; Diversity Mark - The mark of progressive company. (diversity-mark-ni.co.uk)
Feedback
Your feedback is valuable to us and we would love to hear any suggestions for improvement. Please leave any comments you may have here: DiversityandInclusion@afbini.gov.uk
Equality, Diversity & Inclusion is a key strand of AFBI's People Strategy with an overall goal to;
"Create a diverse and inclusive community that supports creativity, and enhances the culture of the Institute."
Our aim is, "to ensure people are treated with dignity and respect, promoting a positive workplace culture that is informed by our core values."
A key part of AFBI's People Strategy is to gain Diversity Mark accreditation and build upon our Gender Equality Plan across the Organisation. Our goal would be to support actions and decision-making that achieves a positive gender balance across our organisation, specifically within our scientific employee base. This is extremely important to AFBI working within the STEM environment.
Equality Legislation
AFBI recognises the importance of complying with its statutory obligations under Section 75, equality legislation and the various codes of practice.
AFBI is committed to equality of opportunity and the promotion of a culture of rights and responsibilities in order to fulfil its statutory obligation in compliance with Section 75 of the Northern Ireland Act 1998 and all Equality Legislation as set out by the Northern Ireland Government
Section 75 and Schedule 9 to the Northern Ireland Act 1998 placed a statutory obligation on public authorities in carrying out their various functions relating to Northern Ireland, to have due regard to the need to promote equality of opportunity between:
Persons of different religious belief, political opinion, racial group, age, marital status, or sexual orientation;
Men and women generally including transgender people;
Persons with a disability or long-term medical condition, and persons without; and
Persons with dependants and persons without.
Without prejudice to this obligation, AFBI is also required, in carrying out its functions to have regard to the desirability of promoting good relations between persons of different religious belief, political opinion, and race.
The statutory obligations are implemented through Equality Schemes, approved by the Equality Commission, and by the screening of policies and the carrying out of Equality Impact Assessments (EQIAs) as required.
AFBI's Equality Scheme
Under Schedule 9 of the Northern Ireland Act 1998, AFBI is required to produce an Equality Scheme stating how it proposes to fulfil the duties imposed by Section 75 of the Act.
An Equality Scheme outlines arrangements for:
assessing compliance with the duties under section 75
assessing and consulting on the likely impact of policies on the promotion of equality of opportunity
monitoring any adverse impact of policies on the promotion of equality of opportunity
publishing the results of such assessments
training staff
ensuring and assessing public access to information and services provided.
AFBI's Equality Scheme was approved by the Chairman and CEO of AFBI on 27 June 2019.
AFBI's Equality Scheme sets out its commitment to the promotion of equality of opportunity and good relations and how it plans to fulfil the duties imposed by Section 75 (S75).
AFBI's Equality Scheme
Complaints Procedure
Disability Action Plan 2021- 2026
AFBI recently reviewed its Disability Action Plan.
Disability Action Plan
Fair Employment Returns
AFBI has a statutory duty to monitor the religious composition of it's workforce and applicants for employment under the Fair Employment Legislation. Every year, AFBI submits annual returns on this data to the Equality Commission. The scope of the Fair Employment Monitoring Regulations includes leavers and promotees.
Annual Equality Progress Report
The Equality Commission for Northern Ireland recommends that public authorities commit to conduct an annual review of progress on the implementation of their Equality Schemes.
Annual Progress Report 2020-2021
AFBI's Audit of Inequalities & Action Plan
The ECNI recommends, in its publication Section 75 of the Northern Ireland Act 1998 – A Guide for Public Authorities(external link opens in a new window / tab)", that public bodies should undertake an audit of inequalities and develop an action plan to address inequalities identified in the organisation and its functions.
AFBI's Audit of Inequalities is currently being renewed.
Organisations wishing to be ADDED to AFBI's Consultee List should contact: AFBI People & Culture Branch, with their details (name, address, tel no, email address).
AFBI People & Culture Branch,
AFBI HQ,
18a Newforge Lane,
Belfast,
Northern Ireland
BT9 5PX
UK
Telephone: +44(0)28 9025 5055
Email: info@afbini.gov.uk