Christmas message from AFBI CEO and Staff
It is with great pleasure that I introduce the AFBI News and Views December Edition. It has been yet another very busy period of time and I would like to pay tribute to all our partner organisations without whom we could not achieve on our objectives. I hope you enjoy this edition as it gives a good overview of the work of AFBI and demonstrates our ability to lead agricultural improvements, protect animal, plant and human health whilst also enhancing the natural and marine environment. I would also like to take this opportunity to wish our friends and everyone throughout the wider agri-food industry a very merry Christmas and a peaceful and prosperous New Year.
Farmers and food producers urged to "embrace change" at George Scott Robertson Memorial Lecture
Food retail around the British Isles was facing "severe headwinds" according to former Waitrose supermarket MD Lord Mark Price, who delivered the George Scott Robertson Memorial Lecture at Riddel Hall, Queen's University Belfast recently.
Manage the risks to ensure success in the calf shed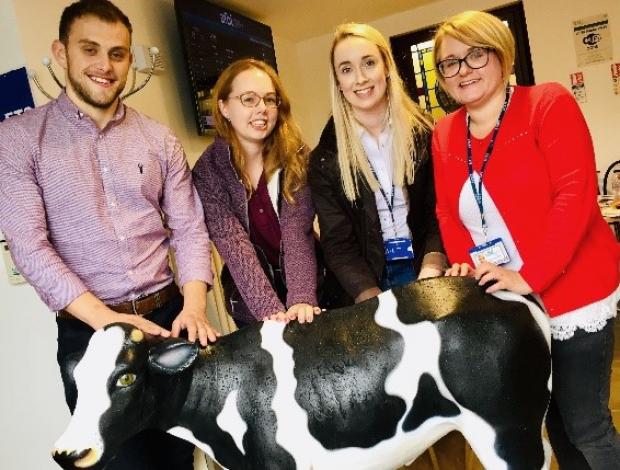 AFBI Hillsborough hosted over 70 dairy farmer co-researchers for a special event on calf rearing. The aim of the event was to provide an update from recent research investigating the quality of colostrum and management strategies across different farms as well as providing management advice for calf health, housing and hygiene.
Calf Jackets and the importance of keeping calves warm
With autumn upon us and the colder weather creeping in, we are all reaching for our coats before we head out the door. But do we need to consider doing the same for our calves? At birth, and for the first few weeks of life, calves are unable to properly regulate their own body temperature and are vulnerable to low environmental temperatures. At low temperatures, calves have to expend energy to maintain their body temperature, which can have a negative impact on performance and health.
AFBI Host EU Policy-Science Working Group on Nutrient Emissions from Agriculture
AFBI recently hosted the annual meeting of the North Western European Policy-Science Working Group (PSWG) on nutrient emissions from agriculture at AFBI Hillsborough. The meeting, which was funded by DAERA, was chaired by Dr Oscar Schoumans from Wageningen University and Research in the Netherlands.
AFBI-QUB PhD Students excel at DAERA Post-graduate Day
AFBI-QUB students, Naomi Rutherford and Paul Cottney recently won best presentation and best poster respectively, at the annual DAERA postgraduate conference. This is a key achievement for both these students within a strong field of PG from QUB, UU and AFBI working across agri-food challenges.
Autumn and Winter Liver Fluke Forecast for Northern Ireland 2019-2020
AFBI wishes to bring to the attention of farmers the need to consider the risk of liver fluke infection in cattle and sheep this autumn and winter. Using a forecasting system based on climate data, staff at the Institute have predicted that the overall risk of liver fluke infection during this autumn and winter will be high across Northern Ireland.
AFBI Business Plan 2019-2020
The AFBI Business Plan for the period 2019-2020 is available to read on the AFBI website. This plan sets out AFBI's key work priorities for the year, to deliver the second year of our Corporate Plan for 2018-2022
Current Job Vacancies in AFBI
Include Research Economist, Entomologist and Industrial workers in Hillsborough Beef and Sheep Unit.
What the Agri-Food & Biosciences Institute does ....